Olivia Dobson Named Undergraduate Commencement Speaker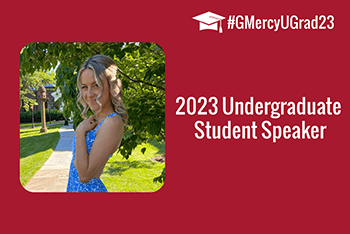 Undergraduate Nursing student Olivia Dobson is serving as the speaker for the 2023 Undergraduate Commencement Ceremony.
Olivia is one of the most highly involved members of GMercyU's community. On Saturday, she will graduate with her Bachelor of Science in Nursing degree.
Throughout her time on campus, Olivia has served as a Resident Assistant in the Department of Resident Life for four years, a Student Worker in the Office of Student Engagement and Leadership Programs, and Corresponding Secretary for Student Government Association. Olivia has been a Student Representative on both the Mission and Values Committee and the Faculty and Staff Committee. An aspiring leader, Olivia participated in the Griffin Student Leadership Institute (GLSI) and Diversity, Equity, and Inclusion (DEI) training. Additionally, she presented at a Board of Trustees meeting and at the GMercyU Undergraduate Research Conference in April 2023.
Just recently, Olivia won the Mercy Leadership Award for the Department of Residence Life.
Within her many roles on campus, Olivia has received several awards. The Department of Residence Life awarded Olivia with Rookie of the Year and Resident Assistant of the Year. In Student Government Association, she earned the Aspiring Leader Award.
In addition to the many clubs and organizations she is a member of, Olivia has also completed a number of clinical rotations in surrounding hospitals, including the Doylestown Hospital Emergency Room where she worked in the Dedicated Education Unit.
Olivia is dedicated to serving her local community and the world as a whole. She attended Alternative Spring Break in spring of 2020 which was hosted on GMercyU's campus due to the pandemic. She also volunteered with Cradles to Crayons, a nonprofit organization in East Falls, Pa. that provides resources to homeless and low-income children in Philadelphia, Pa. In partnership with Residence Life, Olivia volunteered for The Bean Bag Project, an organization that serves vulnerable preschool to twelfth graders in Souderton and Quakertown Community Schools with backpacks packed with meals.
Following graduation, Olivia will begin her career at Doylestown Hospital as a Graduate Nurse in the Emergency Department. She is excited to begin this new journey and continue to learn every day.