Marylee McCollum Receives Catherine McAuley Award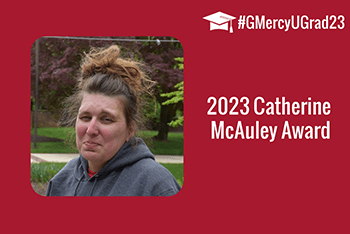 Every year, one GMercyU graduate is presented with the Catherine McAuley Award at the Honors Convocation ceremony. The mission of Catherine McAuley, Foundress of the Sisters of Mercy, was to dedicate her life to service. Catherine held the personal belief that "one person can make a difference." The graduate presented with this award is dedicated to service, to Christian values, and to generosity.
This year's Catherine McAuley Award recipient, Marylee McCollum, embodies all of these qualities. Within Student Government Association (SGA), Marylee served as Special Representative, Corresponding Secretary, and Social Work and Psychology Club (SWAP) Representative. Marylee also served as SWAP Special Representative and American Association of University Women (AAUW) Special Representative. In addition, Marylee was a member of The Hidden Opponent, Morgan's Light, GMercyU After Dark, Student Veterans Association, and the National Association of Social Workers (NASW).
Marylee was engaged with GMercyU's Mental Wellness Health Toolkit and took part in Suicide Prevention Training, DEI Training, and Safe Zone Training, to name a few. She was an active volunteer for GMercyU's Take Back the Night and Walk a Mile in Her Shoes events and completed work study with The Mercy Center and Catherine's Cupboard.
Marylee is active within the Social Work community, attending the NASW Legislative Education and Advocacy Day (LEAD) and earning her National Social Worker Association Certificate for presenting and taking part in GMercyU's poverty simulations. She also participated in all three tiers of The Griffin Student Leadership Institute.
Outside of the classroom, Marylee is also an engaged member of the community. She volunteers with her son's school, including the Philadelphia Alzheimer's Walk and NED Walk.
After graduation, Marylee plans to obtain her BSW license by the end of the summer and has applied to Master of Social Work programs. Her dream is to become a Substance Abuse Counselor/Case Management or a School Social Worker.