Mary Jo Pierantozzi Receives Faculty Distinguished Service Award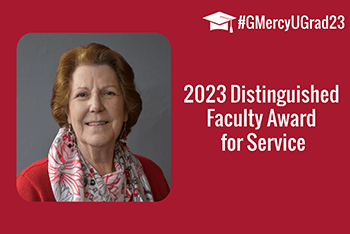 Assistant Professor Mary Jo Pierantozzi was honored with the 2023 Distinguished Faculty Award for Service at this year's Undergraduate Commencement Ceremony.
For Professor Mary Jo Pierantozzi, education and service go hand and hand. Her 50 year career as an educator is defined by her service to her profession, her students and Gwynedd Mercy University. For the past 21 years, her service leadership has impacted countless programs across the University including the Student Government Associate, Campus Ministry, and the Mercy Leadership Academy, just to name a few. Professor Pierantozzi's dedication to the Mercy Mission has defined her tenure at Gwynedd Mercy University.
Shortly after joining the faculty, Professor Pierantozzi was invited to present to members of the Student Government Association at their Fall and Winter Leadership weekends. When Campus Ministry first instituted the student led retreats, Let Your Light Shine, she was invited to be involved with the planning and implementation of these annual retreats.
Ms. Pierantozzi led Alternative Spring Break trips for over 12 years, and was awarded several Presidential Mini-Grants through which she developed an immersion experience for Education students. Her reach became international when she co-led students to attend the Young Mercy Leadership Conference in Dublin, Ireland.
Additional service highlights for Professor Pierantozzi include her role in helping to develop the Griffin Student Leadership Institute (GSLI) and the invitation to serve on the planning committee for the Mission Leadership Academy in 2011. In 2020 Professor Pierantozzi achieved the Scholar level in the Mission Leadership Academy and in 2022 she was honored for her 10 years of service to the GSLI. Other areas of involvement, over the years, have included Freshman Service Day, Fall Fest, Finals' Breakfast, Faculty/Staff Basketball game, faculty mentor for the Volleyball team, ASB Bingo, advisor for Best Buddies and Kappa Delta Pi Honor Society, as well as service on multiple Faculty Committees, task forces, and search committees. In her retirement, Professor Pierantozzi will continue her service to the University as a returning member of the Alumni Board.
Professor Pierantozzi's services reaches beyond the University as she serves as a member of the Student Engagement Committee of the Board of Trustees for Gwynedd Mercy Academy High School and as an Associate in Mercy, having made her initial covenant in September of 2006.
Professor Pierantozzi is a true servant leader focused on building a more just and positive world one service opportunity at a time.