GMercyU Commencement Weekend Celebrates the Class of 2023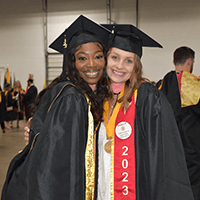 Gwynedd Mercy University's Class of 2023 was celebrated during the Undergraduate and Graduate Commencement ceremonies hosted at the Greater Philadelphia Expo Center at Oaks over the weekend. Both ceremonies began with the faculty procession and provided graduates the opportunity to walk across stage to receive their diploma.
On Friday, May 12 GMercyU hosted the annual Baccalaureate Mass to kickstart Commencement weekend and bless the current graduating class.
The Distinctive Mercy Graduates were deeply touched by Graduate student speaker Roberta Slawinski, MSOT and Undergraduate student speaker Olivia Dobson, BSN as they shared their personal stories and hopes for the future.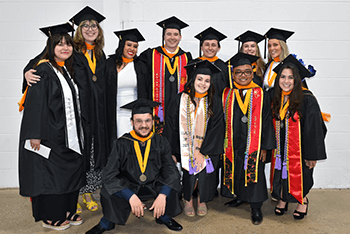 The Class of 2023 was honored with the company of friends, family, faculty, and staff, and they reflected on their journey at GMercyU and look toward the future. As they bid their final farewell to GMercyU and embraced their future as Distinctive Mercy Graduates, the Class of 2023 shared many smiles, laughs, and tears.
Graduate Ceremony
This year's Graduate ceremony featured Dr. Evelyn Nuñez-Lebron as its Commencement Speaker. Dr. Nuñez-Lebron currently serves as the Assistant Superintendent of Elementary Schools in the School District of Philadelphia. Prior to this role, she held various positions in the School District of Philadelphia including Chief of Schools, Assistant Superintendent, Principal, Teacher Coach, and teacher. Dr. Nuñez-Lebron has a deep commitment to ensuring all students receive a high-quality education by working collaboratively, creating partnerships, and building relationships.
Dr. Nuñez-Lebron obtained her undergraduate degree in Early Childhood Education from Chestnut Hill College, her Master's Degree in Educational Leadership and Principal Certification from Cheyney University, and her letter of Eligibility (Superintendent Certificate) from Arcadia University. She is also a product of Gwynedd Mercy University, obtaining her Doctorate Degree in Educational Administration and Supervision in 2017.
Undergraduate Ceremony
This year's Undergraduate ceremony speaker was Valerie A. Arkoosh, MD, MPH. Dr. Arkoosh is currently leading the Pennsylvania Department of Human Services, recently appointed by PA Governor Josh Shapiro. Prior to this role, she served on the Montgomery County Board of Commissioners for eight years, particularly as Commission Chair from November 2016 to January 2023. Dr. Arkoosh played an integral role in Montgomery County's fight against the pandemic, and her transparent leadership was praised by the county.
She is an alumna of the University of Nebraska College of Medicine and obtained her Master of Public Health from Johns Hopkins Bloomberg School of Public Health.
Learn more about Gwynedd Mercy University's Commencement, including award winners and video stream, here.