Sport Management Students Volunteer at Women's March Madness Tournament
On March 18 and 20, three GMercyU Sport Management students volunteered at the first and second round of the Women's NCAA March Madness Tournament.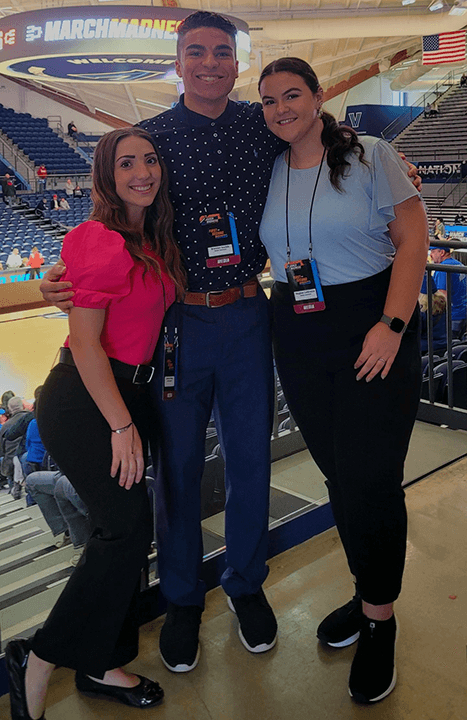 Students had the opportunity to work alongside sport industry professionals to assist in a number of areas, including the media department. They learned important aspects of game operations within the NCAA, and saw how every role has a specific purpose during events.
"The two days I volunteered at Villanova are two days I will remember for the rest of my life. The atmosphere was extraordinary and made me realize I have so much enthusiasm for my major. The people and energy were fantastic, making me feel so at home and giving me helpful guidance on our tasks. I strongly recommend pursuing any opportunity like this because of how special and significant they can be for the resume and creating those memories you'll always cherish," Branden Soubik, junior Sport Management Major and Sport Business Association (SBA) member said.
GMercyU's Sport Management program places strong emphasis on getting real-world experiences, whether through semester or summer internships or volunteer opportunities such as this one.
"I am incredibly grateful to have had the opportunity to take part in March Madness 2023. I was able to work alongside some incredible professionals. I learned about game operations in the NCAA. Seeing all the chaos from the operations side of things has definitely given me a new perspective on what goes on to make an event successful. I am grateful for this opportunity and for creating new connections," said Meg LoStracco, SBA Event Coordinator.
"Volunteering at the First Round March Madness game was once in a lifetime experience! I was able to see how much goes into making a collegiate event come to life. I was able to learn how there are so many roles within college athletics and no matter how large or small a role is, it makes a big difference in the overall outcome. It gave me a great perspective and helped gain interest for working in college athletics," shared Camryn Kinney, first-year Sport Management major and SBA member.