Metal Detecting and History Club Discovers Artifact on Campus
Liam Malone, GMercyU Integrated Studies student, recently started the Metal Detecting and History Club on campus.
"I am interested in history and metal detecting so we thought it would be a great idea to start a club. I want other people to know how much fun it is to metal detect," Liam said.
Within his own neighborhood, Liam has found numerous interesting objects and researched them online to find the date of origin and additional information. Some of the objects he's found include a silver hairbrush from the 1920s, a 1917 Walking Liberty Half Dollar, an old tin-type photo, and a German Coin from WWII.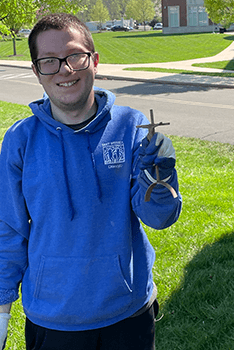 Liam was recently metal detecting around campus with GMercyU's Archivist David McAllister when they found a metal crucifix on the grounds near the old location of Byrne Hall. Byrne Hall was an original building to the estate and was used for various purposes once the Sisters of Mercy purchased the campus property.
"I hope the club can find more objects from GMercyU's past and maybe objects from the Bond family that lived in Assumption Hall. When look at the old campus map, other sites I would like to search are the Gustav Martin Hall and old ruins on campus," said Liam. "Metal detecting is a really fun and interesting hobby and I hope that other people join the club and enjoy it too."
Learn more about GMercyU's Clubs & Organizations.