Mercy in Action
Campus
Academics
GMercyU Hosts Community Conversation on Suicide Prevention
On April 4, GMercyU hosted a Community Conversation on Suicide Prevention with partners in the community.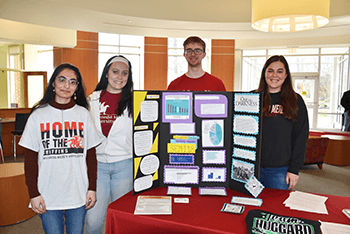 The event stemmed from The Psychology of Nonviolence course (SEM 118), taught by Stephanie Fratantaro, MS, NCC, LPC, Professor of Practice in Psychology, Director of General Education, and Distinctive Mercy Experience (DME) Coordinator. The seminar course evolved out of a Mission Leadership Academy scholars project and Stephanie's personal commitment to mental health and vulnerable populations as a scholar-practitioner. The course focused on understanding particular forms of intra- (suicide) and inter- (domestic and sexual) personal violence from the perspective of psychology, and how individuals and communities can become engaged to promote nonviolence.
In the fall of 2019, Stephanie began working with suicide prevention and Intimate Partner Violence (IPV) organizations, specifically Access Services, Mobile Crisis, The Peyton Heart Project, A Woman's Place, and Laurel House.
"Since January 2020, Access Services has acted as a community partner, providing education/training, resources, and mentorships for students in the class. Every semester, my students all get QPR (Question – Refer – Persuade) Gatekeeper trained/certified, and a small group works as a team on a project to advance suicide prevention," Stephanie shared.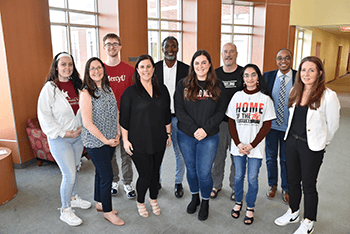 The Community Conversation event featured Jordan Burnham from Minding Your Mind as the keynote speaker, and a panel of speakers from Access Services. The event was sponsored by Access Services of Montgomery County – Hope4Tomorrow and GMercyU's SEM 118 The Psychology of Nonviolence.
"Mental health and vulnerability to suicidal ideation have increased over many years and have become more acute for vulnerable populations, hence the need for community conversations and visible prevention programming. As an extension of the Montgomery County Suicide Prevention Task Force, Ty Williams, Crisis Community Liaison and Trainer at Access Services, and I participate in a Community Prevention Work Group aimed at advancing the conversation and focus on the 'before' instead of intervention after a suicide loss," Stephanie said.