GMercyU Hosts Annual Take Back the Night Event
Gwynedd Mercy University hosted its annual Take Back the Night Event in honor of Sexual Assault Awareness Month on April 11. The event was hosted by Title IX Office in partnership with organizations across campus.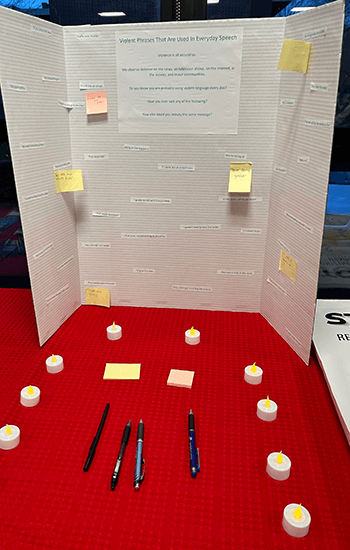 Take Back the Night is a global movement to stand against sexual violence of all forms. GMercyU is committed to providing a safe, brave space for community members to share their story.
"It is an opportunity for our campus community to stand in solidarity supporting survivors of sexual assault," said Title IX Coordinator Bob Wood. "The event is a means for people to begin to understand the impact this form of trauma has on an individual's life. I think it helps people to understand victims can and do move past this form of trauma. However, it never completely leaves them. This form of trauma leaves hidden scars."
This year's event featured guest speaker Alison Denman, MS, BSN, RN, SANE-A, GMercyU alumna and Clinical Director and Forensic Nurse Manager of the Philadelphia Sexual Assault Response Center (PSARC). Alison shared her experience working with survivors and called on the need for action against sexual violence.
In conjunction with PSARC, GMercyU hosted a clothing drive to provide necessities to victims after they undergo a sexual assault nurse examiner (SANE) examination.
"A subtle outcome of TBTN is that people begin to understand there are more survivors in our communities than we realize. It also highlights the fact that it is more likely than not that we all know someone who has been impacted by sexual violence. It is also very probable we don't know that person has been hurt because they do not talk about it," Wood shared. "TBTN provides a person with what I believe is the most important step in a healing journey. TBTN provides for them a means to tell their story and truth, and to be listened to. We don't just hear the person, we listen to the person. Again, this is a vital step in the healing journey."
GMercyU's Take Back the Night event was featured on CBS Philly on Tuesday evening.
If you or someone you know has experienced sexual violence in any form, please contact GMercyU's Title IX office or check out GMercyU's resources.