Alumni
Campus
Mercy in Action
Academics
GMercyU Hosts 16th Annual Autism Conference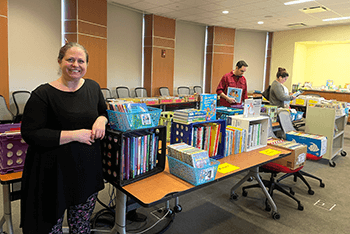 GMercyU's Autism Institute hosted the 16th Annual Autism Conference on Saturday, April 1 back on campus for first time in three years.
The Autism Institute hosts the Autism Conference every April during Autism Awareness Month. GMercyU's Autism Institute is funded by a generous grant from the Child Development Foundation (CDF) of Montgomery County.
The Autism Conference is designed for parents, healthcare professionals, education professionals, and anyone interested in increasing their knowledge and skillset for working with individuals on the Autism spectrum. The event is free and attendees also receive Continuing Education Units (CEUs) through Act 48 and PQAS.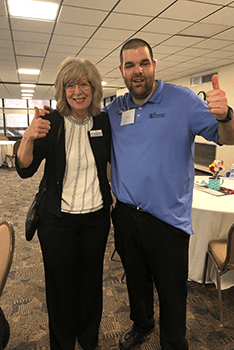 "Looking at the 16-year history of the Conference, its growth parallels the advancement in the field of the study of Autism. Our first three conferences focused on supporting pre-schools and their students, and our current Conference had six sessions devoted exclusively to post-high school opportunities," Deb Schadler, Assistant Dean of Education and Director of Autism Institute said. "I am amazed at how we are able to expand the Conference each year to meet the needs of the field. This year we trained police personnel from four local police departments as well as the entire GMercyU security force. In addition, we had programs for typical and atypical neuro-diverse children to afford parents the opportunity to attend the Conference."
GMercyU alumnus Sean Romano, MS, BCBA, a Behavior Management Specialist and Consultant for the Montgomery County Intermediate Unit, hosted two sessions. The first was on The ABC's of Behavior and the second on Behavior Management Strategies to Use in the Classroom and at Home. Sean shared a number of tips that parents and educators can use with children on the spectrum to help with behaviors.
Graduate student Bria Hoey also presented at this year's Conference on Understanding a Sense of Belonging for Students with Autism Spectrum Disorder.
Alumni Involvement
This year's Conference included an alumni lunch, featuring Ben Hartranft as the speaker. Ben is on the Autism spectrum and shared his life experience with the crowd. He also works in partnership with the Philadelphia Eagles and other organizations to support Autism awareness. He is currently on a mission to have Governor Josh Shapiro and President Joe Biden to wear blue for Autism awareness month.
Jennifer Alderfer Eyth '04 shared her business, Twice Upon a Time Books, that sells gently used children's books along with new and used teaching supplies. Her goal is to provide kids and parents with quality second-hand books and supplies at an affordable price. Prior to the pandemic, Twice Upon a Time Books had a storefront in Hatfield, Pa., but Jennifer now runs the business out of her home.
Learn more about GMercyU's Autism Institute.