Principles of Sport Management Course Hosts Guest Speakers
Students in the Principles of Sport Management course welcomed guest speakers Dr. Tom Brennan and Jeremy Cantello to talk about careers in college athletics and professional sports on February 27.
"It is important for students to hear from professionals working in the areas we discuss in class to put it into reality," Maddie Herman, Instructor of Sports Management said. "Students prepared for the speakers by doing research, creating questions, updating their resume and LinkedIn, writing an elevator pitch, and sending thank You emails to both Dr. Brennan and Jeremy. The students in the course will leave the course with two sport industry connections to begin growing their own network."
Dr. Tom Brennan is currently a member of the Gwynedd Mercy University Business Advisory Board and is a former Athletic Director, most recently, at Goldey Beacom College and LaSalle University. Jeremy Cantello works in sport facility operations for the Syracuse Mets, a minor league affiliate for the New York Mets, and in part maintenance for his township where he overseas facility management for the ice hockey rink and baseball fields.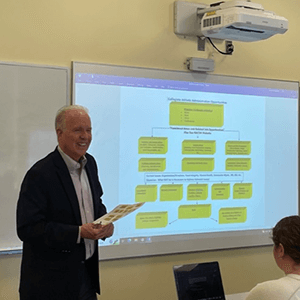 "I thought it was an excellent opportunity to have Dr. Tom Brennan and Jeremy Cantello be able to come in to help us grow our network. I was able to learn what made them so passionate about their jobs and how important it is to build a relationship. They both offered different perspectives on the sports industry and that life in sports is not always a straight line," Junior Sports Management major Patrick Lynch said.
"Having both Dr. Brennan and Jeremy speak to our class was a great experience! Dr. Brennan's experience as an Athletic Director at various colleges around the country helped us see the many different types of positions available to us. Jeremy helped us understand what it takes behind the scenes to get a professional sporting event ready for game day. It is exciting that through my Sport Management class, I now have started to build a network in college athletics and professional sports," Sophomore Accounting major AJ Fiorentino said.