GMercyU Nursing Students Engage in Roundtable Discussion with PA Governor Josh Shapiro
Pennsylvania Governor Josh Shapiro visited Gwynedd Mercy University to host a roundtable discussion with our Nursing students about the challenges of the nursing career on March 17. Governor Shapiro was joined by President D'Emilio, AVP for Enrollment Aimee Huffstetler, Representative Elizabeth Hanbidge, and Senator Maria Collett.
Since the start of the pandemic, there has been decline of nurses available to care for patients. Governor Shapiro expressed his concerns and shared his proposal to recruit and retain more nurses.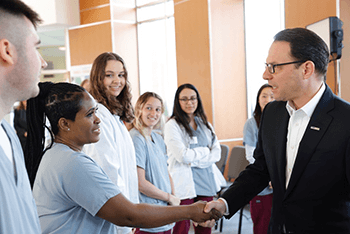 "Nurses save lives every single day across our Commonwealth, but we're facing a real crisis right now – a critical shortage of nurses in our hospitals and clinics," Governor Josh Shapiro said. "When we don't have enough nurses to cover our communities, that puts an even greater burden on the nurses who are on the front lines every day keeping our families and our communities healthy. We need more nurses to join the ranks and ease that burden – so my budget is going to make it easier to become a nurse in Pennsylvania."
Governor Shapiro asked GMercyU Nursing students to express what they see first-hand during their clinical rotations. They shared concerns on a number of topics including mental health, the differences between the day and night rotations, and the need to focus on all care facilities, not just hospitals.
"Something that I've noticed is the mental health aspect. Because of being short staffed and having long hours, there's not a lot of support within hospitals. I think that, as a society, we need to give more support to the mental health aspect of nursing because it does take a toll," expressed junior Nursing student Ashley Brown.