GMercyU's Chapter of AAUW Networks with Lansdale Chapter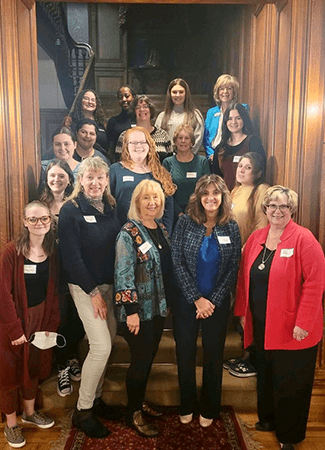 GMercyU's chapter of the American Association of University Women (AAUW) hosted a Thanksgiving Dinner with the Lansdale chapter on November 16. At the event, GMercyU members networked with professionals in fields such as law, education, STEM and more. Attendees celebrated their shared goal of women's education, equity, economic empowerment, and advocacy.
"We were so pleased to be joined by President D'Emilio, Dr. Van Brunt, and members of AAUW Lansdale for our Thanksgiving celebration. Students had the chance to network with leaders in the community and their fields, as well as celebrate AAUW's many accomplishments during out time on campus. We look forward to working with the Lansdale branch in the future towards our shared goals of advocacy and empowerment for women," said Casey Hilferty, Associate Director of Career Development.
Emma Spangler, senior Marketing major and member of the AAUW Executive Counsel, was among those who attended the dinner.
"I enjoyed being able to network and meet other women from the AAUW Lansdale branch. We had a wonderful turnout, great conversation, and delicious food. I'm very proud and happy with the effort we put into this event," shared Emma.
Learn more about GMercyU's Chapter of AAUW and upcoming events.