President D'Emilio Recognized as PBJ 2022 Woman of Distinction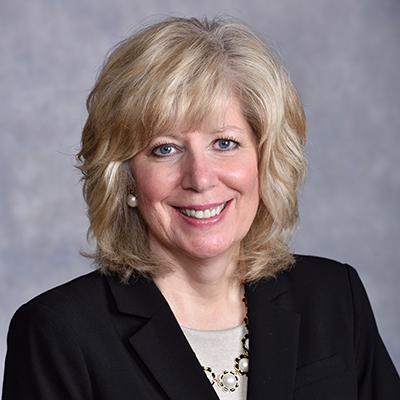 Gwynedd Mercy University President Deanne H. D'Emilio, JD has been recognized as a 2022 Woman of Distinction.
Each year, the Philadelphia Business Journal (PBJ) recognizes the region's most influential women across every industry and profession, deeming them Women of Distinction. These women make a noticeable different in their communities and are trailblazers within their industries.
"Having the opportunity to bring my vision for transformative and innovative education to life alongside the dedicated educators, administrators, and students of GMercyU is not only a tremendous responsibility, but an incredible honor," said D'Emilio. "This university was founded by the Sisters of Mercy back in 1948, and their trailblazing leadership and ability to meet 'the next great need' serves as a continual source of inspiration to me and to the entire GMercyU community. I am deeply honored to be recognized as a PBJ Woman of Distinction."
D'Emilio has been instrumental in leading GMercyU through significant changes and milestones since her tenure began in 2017.Earlier this year, President D'Emilio led the sale of East Campus, earning more than twice what the 154-acre property was purchased for three years ago.
Through President D'Emilio's leadership, GMercyU was able to secure a transformational gift of $10 million from the Maguire Foundation to build the new Frances M. Maguire Healthcare Innovation Campus. With the goal of improving access and equity for all, this new state-of-the-art center for healthcare innovation will address the healthcare needs of the present and future. Healthcare majors will collaborate with Social Work, Psychology, Computer Information Science, and students of other majors as they learn to care for the whole patient, through the convergence of technological advancements and a compassionate healthcare mindset.
Under the direction of President D'Emilio, GMercyU has worked to make a number of improvements to the Gwynedd Valley campus, including the addition of a loop road and more pedestrian walkways. Residence halls and athletic fields are also undergoing renovations, and new classroom technologies have been installed.
Now, GMercyU is emerging from the pandemic with a clear vision and plan for the future, as it's approaching the 75th Anniversary next fall.
Please join the GMercyU community in congratulating President D'Emilio on this wonderful honor.