Mary Van Brunt, PhD, Named Next President of Spring Hill College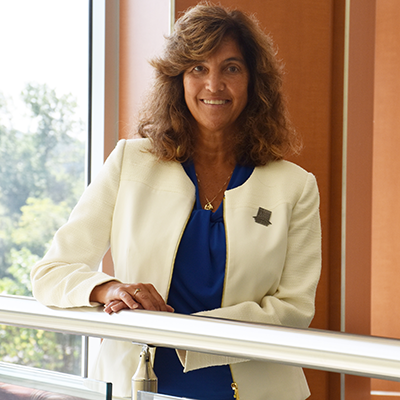 Gwynedd Mercy University is proud to announce that Mary Van Brunt, PhD has been named the next president of Spring Hill College in Mobile, Ala. Dr. Van Brunt has served as Gwynedd Mercy University's Provost and Vice President for Academic Affairs since 2018. She will assume her new role in January 2023. A search for a new GMercyU Provost and VPAA is underway.
During her time at GMercyU, Van Brunt moved the University forward in a number of key areas, including the introduction of several new market-centered academic programs, the completion of a University-wide Strategic Assessment and Alignment process, and the launch of a new cross-department retention initiative. She also played an essential role in the University's quick transition to fully remote learning during the pandemic.
"Although I am very sad to see Mary leave GMercyU, I am absolutely thrilled that she has been chosen to lead another American Catholic university," said Deanne H. D'Emilio, President of Gwynedd Mercy University. "Mary is an experienced, innovative and driven leader with a deep commitment to mission-centered Catholic higher education. She will make an outstanding President."
"It has been an honor to serve as Gwynedd Mercy University's Provost and Vice President of Academic Affairs and Gwynedd will always hold a special place in my heart," said Van Brunt. "I am delighted to have been chosen to lead Spring Hill College, and look forward to carrying forth the Jesuit tradition of caring for the intellectual, spiritual and social growth of our future leaders."
Prior to joining GMercyU, Van Brunt served as the founding Dean of the School of Business, Arts, and Media with an extensive background as both a professor and an administrator at Cabrini University. She provided support during Cabrini's transition from a college to a university, and created its first doctoral program. Prior to her time at Cabrini, Van Brunt spent more than a decade in the business world as an accountant, banking officer, and assistant vice president.
Van Brunt earned her PhD in economics with concentrations in public and international finance from Lehigh University in 2002. She also has a master's degree in business administration with a concentration in accounting from St. Joseph's University and a bachelor's degree in economics from Ursinus College.