Frances M Maguire School of Nursing & Health Professions Hosts Dean's Distinguished Lecture Series
With support of Iota Kappa Chapter of Sigma Theta Tau International and the Frances M. Maguire School of Nursing & Health Professions hosted the Dean's Distinguished Lecture on October 19.
"Programs such as this provide an important opportunity for dialogue and exchange. This event has the added benefit of creating a valuable experience for our students to interact with Gwynedd Mercy University alumni in their chosen profession, while offering our community partners an occasion to collaborate, network, and share knowledge," shared President D'Emilio in her opening remarks.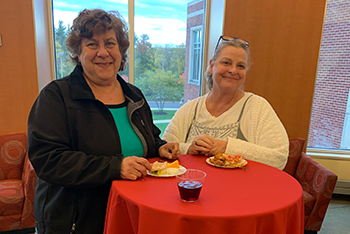 This year's speaker was Real Admiral, Assistant Surgeon General Aisha K. Mix, DNP, MPH, RN, a leader in nursing and an advocate for improving healthcare access for underserved and at-risk populations.
Real Admiral Mix is currently the Chief Nurse Officer in the U.S. Public Health Service Commissioned Corps. In her position, she provides guidance and advice on prevention, public health, health systems development, and the role of nursing in achieving health and wellness to the U.S. Department of Health and Human Services (HHS), the Surgeon General, and the nation's nursing community. On the international stage, Real Admiral Mix represents the U.S. to the World Health Assembly. As part of the International Council of Nurses Government Chief Nurse and Midwifery Officers, she advises on nursing practice, education, and leadership.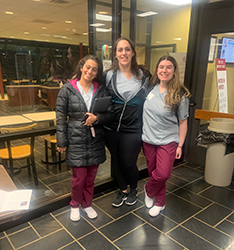 Throughout her career, Real Admiral Mix has held a variety of leadership roles where she designed to help increase diversity and innovative strategies for the nursing community. She has also worked to develop policies dedicated to improving access to health and human services for at-risk and underserved populations. By leveraging her knowledge and expertise, Real Admiral Mix has designed and implemented nurse deployment roles during disasters, including case management, discharge planning, patient movement, human services, and disaster recovery options.
Real Admiral Mix graduated from Hampton University with her Bachelor of Science and Master of Science degrees in Nursing. She obtained her Master of Public Health degree from Johns Hopkins University and earned her Doctor of Nursing Practice degree, focused on educational leadership, from Case Western Reserve University.
Utilizing her experience as a nurse, public health practitioner, educator, and emergency manager, Rear Admiral Mix is an advocate for nursing, the nursing profession, and public health. She is committed to protecting, promoting, and advancing the safety and health of the U.S.