Career Development Partners with Sports Management Program for Phillies College Series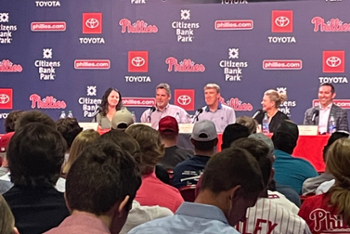 GMercyU's Career Development recently partnered with Instructor of Sports Management Maddie Herman to send GMercyU students to the Philadelphia Phillies College Series.
The event, hosted by the Phillies, gives students and professors the opportunity to go behind the scenes of the baseball industry. Students attended a Q&A session with Phillies executives and a networking session with front office personnel from the Phillies.
"This is a unique opportunity for our students to be in front of professional sport employers to grow their network and career opportunities. We are so thankful that our Career Development understands the importance of these events for our students' professional development," Maddie Herman, Instructor of Sports Management said.
GMercyU had 11 representatives attending the event on September 21. For more information, click here.