McShea Shines on CoSIDA DIII Academic All-District Women's Track & Field/Cross Country Team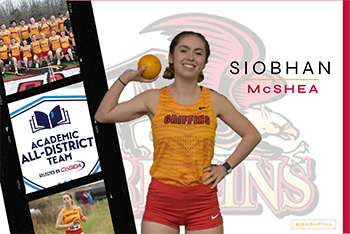 By Greg Gornick
Gwynedd Mercy University senior Siobhan McShea earned Academic All-Distric honors from the College Sports INformation Directors of America (CoSIDA). The CoSIDA Academic All-District Teams recognize the nation's top student-athletes for their combined performances on the field and in the classroom and provides the candidates for the CoSIDA Academic All-America. CoSIDA Academic All-America separately recognizes honorees in four divisons - National Collegiate Athletic Association (NCAA) Division I, NCAA Divison II, NCAA III, and the National Association of Intercollegiate Athletics (NAIA) - which will be announced in June.
McShea finished her collegiate career with a 3.84 cumulative grade point average (GPA), was inducted to Chi Alpha Sigma, the National College Athlete Honor Society, and will be honored as a four-time AEC All-Academic Team member later this summer.
As the AEC Women's Track Athlete of the Year, McShea scored a meet-high 51.5 points while earning All-AEC First Team honors in the 400-meter hurdles and the heptathlon, and All-AEC Second Team honors in the 400-meter hurdles and 4x400-meter relay. Her times in the 400-meter hurdles and heptathlon were recorded as conference meet records. This past fall, she also garnered All-AEC Women's Cross Country Second Team honors with an 11th-place finish at the 2021 AEC Women's Cross Country Championship Meet. McShea was the 2019 AEC 400-meter hurdles. She followed that performance with 2021 All-AEC First Team honors in the 100-meter hurdles, 400-meter hurdles, pentathlon, and high jump, while also earning All-AEC Second Team honors in the long jump.
McShea is the second Griffin to earn CoSIDA Academic All-District Team recognition this year, following fellow Gwynedd Mercy University Senior Student-Athlete of the Year senior T.J. Brasier of the baseball team.
The complete lists of the 2022 CoSIDA Academic All-District Women's Track & Field/Cross Country Teams (PDF) for NCAA, DI, DII, DIII, and NAIA are available using the provided links.