GMercyU Celebrates the Class of 2022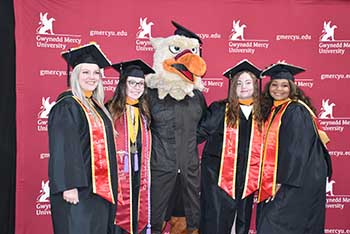 Gwynedd Mercy University celebrated the Class of 2022 at the Greater Philadelphia Expo Center at Oaks on Saturday, May 14. GMercyU held both Graduate and Undergraduate Commencement ceremonies, which celebrated the 748 graduates.
Commencement Weekend kicked off on Friday, May 13, with GMercyU's annual Baccalaureate Mass followed by Honors Convocation. Reverent Robert G. Mulligan, OSFS, MA, MEd, Chaplaina nd Instructor of Education at Chestnut Hill College, served as the presider of the Baccalaureate Mass. The Baccalaureate Mass is a traditional Catholic Mass that celebrates the graduating class and is open to everyone of different faiths and backgrounds.
On Saturday May 14, the Class of 2022 gathered at the Greater Philadelphia Expo Center at Oaks to celebrate their achievements with friends and family. Both ceremonies opened with the faculty procession and provided graduates with the opportunity to walk across stage to receive their diploma.
"Graduation is one of the most joyful celebrations and biggest achievements in life," GMercyU President Deanne H. D'Emilio, JD said in her welcome address. "At Gwynedd Mercy University, students are taught to utilize the excellent education they received to engage in work that will be of service to others in the world. Students are taught that the cultivation of compassion, intellectual inquiry, dedication to truth, mercy and justice is essential to improving the human condition. With this approach, we prepare students for successful careers and meaningful lives."
In addition to celebrating the success of the 2022 graduates, two Honorary Degree recipients were recognized for their positive impact on society and their commitment to the mission of the Sisters of Mercy. The honorees included Leigh Middleton, who was recognized during the Undergraduate Commencement Ceremony, and the late Joseph DiMino, DO, who was recognized during the Graduate Commencement Ceremony.
Both graduates and attendees were inspired by the words of this year's Commencement Speakers. Superintendent of the River Rouge School District and GMercyU Alum Derrick Coleman, EdD served as the speaker for the Graduate Commencement Ceremony and Philanthropist Leigh Middleton served as speaker for the Undergraduate Commencement Ceremony. GMercyU's student speakers, Morgan Buterbaugh, MSEd and Lauren Jani, BS touched the hearts of fellow graduates with their personal stories and hopes for the future.
The graduates were honored with the company of family, friends, faculty, and staff, as they reflected on their time at GMercyU and look forward to the journey ahead. There were so many smiles, laughs, and tears as the Class of 2022 said their final farewell to Gwynedd Mercy University and hello to their new futures as Distinctive Mercy Graduates.
Videos of both ceremonies will be available at a later date.