GMercyU Alumni Association Names Two Recipients for Outstanding Alumni Awards
Gwynedd Mercy University's Alumni Association will present two students, one at the undergraduate and one at the graduate level, with an award at the 2022 Honors Convocation Ceremony on Friday, May 13.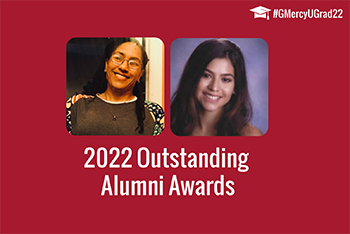 Seydel Acuna
Undergraduate Biology student Seydel Acuna is receiving the Outstanding Undergraduate Student award. This award is given to a student who demonstrates a commitment to GMercyU and its Mercy Mission. The individual receiving the award has distinguished themselves in academics, athletics, service, and/or leadership.
Seydel Acuna can be classified as one of the most active and engaging students on campus. She will be graduating with her Bachelor of Science in Biology with dual minors in Chemistry and Pyschology. Upon entering GMercyU, she was awarded the Mother Mary Bernard Scholarship and preserved her spot on the Dean's List throughout her academic career.
Seydel conducted research in Summer 2021 under the direction of Associate Professor of Biology Stacey Lettini, PhD, which focused on the formation of biofilms upon several freshwater species and the various factors that have an impact. Seydel presented her findings at the Annual Biomedical Research Conference for Minority Students where she was honored with a presentation award and served as GMercyU's first undergraduate student to present. Seydel also presented her research at the annual SEPCHE Honors Conference and GMercyU's annual Research Conference.
Seydel's academic endeavors did not end there. Throughout the past year, she has worked closely with Professor of Philosophy Robert Clewis, PhD on editing one of his books. She also served as the Biology Department's Social Media Coordinator, where she has showcased the program and engaged wtih the newest Biology majors.
Seydel is one of three seniors helping to lead the Mercy Milkweed Service project on campus, which supports the Sisters of Mercy initiative of establishing butterfly gardents. She has dedicated her time to engaging in hands-on activities, fundraising efforts, and developing infographics on social media.
Outside of campus, Seydel is engaged in a variety of service activities. She currently works with Philly Fighting COVID (PFC) as a site supervisor and has been a huge help in translating for Spanish-speaking patients. Additionally, she works as a marketing associate for the organization, where she compiles flyers and other promotional materials.
In addition to her academic and service achievements, Seydel was a member of GMercyU's Women's Lacrosse team all four years and was selected to serve as the team's captain during her sophomore year, maintaining the position since. Following graduation, Seydel plans to volunteer in hospitals to obtain patient care hours to assist in her application to Physician's Assistant (PA) school. Her goal is to become an Emergency Room Physician Assistant.
Phelicia Baker
Graduate student Phelicia (Lisa) Baker is receiving the Outstanding Graduate Student award. This award is presented to a student who demonstrates a deep commitment to GMercyU and its Mercy Mission. This individual shows commitment to their academics and professional or personal goals.
Lisa Baker will be graduating with her EdD in Educational Leadership with a concentration in Teaching & Learning in Higher Education. She currently serves as an Instructional Coach for the Mary McLeod Bethune Day Academy in Washington, D.C. In this role, she helps support the instructional development of teachers, provides technical support, guides teachers and teams on how to use student achievement data, and keep faculty members focused on instructional improvement.
Lisa has a deep commitment to diversity, equity, and inclusion. She has impressed the faculty at GMercyU with her commitment to the University's Core Value of social justice and serves as a role model to her peers by strongly advocating for the support of students with diverse needs.
Lisa's dissertation examines the nuances of environments and interactions that impact the lacking and delayed treatment for Black women facing anorexia. Like most issues pertaining to racial injustice, it is often dismissed as invaid. Lisa's dissertation allows people the opportunity to walk in the shoes of the women she observed to see where barriers are created. Her research provides an alternative path that can help improve not only the lives of these women, but help improve society as a whole.