Dr. Lettini Receives Lindback Distinguished Teaching Award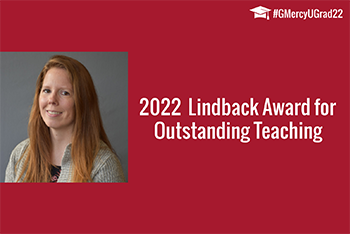 Stacey Lettini, PhD was awarded the Christian R. and Mary F. Lindback Foundation Award for Outstanding Teaching, which is given to faculty members who demonstrate extraordinary devotion to their students and profession. 
Dr. Lettini joined Gwynedd Mercy in 2009 after earning her BS degree in Animal Science and her PhD in Ecology and Evolution from Rutgers University. A tenured Associate Professor, Dr. Stacey Lettini has published numerous articles, and just recently published a textbook "Microbiology for the Health Professions: A Case Study Approach" with Cognella Academic Publishing. She has presented at many local, state, and national conferences and has been the recipient of seven grants, many focused on undergraduate research.
Dr. Lettini has worked with over 15 students on their thesis projects in microbiology and with over 30 students during the summer undergraduate research program. She has engaged students in projects relating to stream macroinvertebrate and fish diversity, parasitic infection in macroinvertebrate and fish hosts, and bacterial diversity in soils, waters and tree and fish species. One of those projects, the Small World Initiative (initiated by and housed at Yale University), involved more than 50 colleges and universities around the world to find antimicrobial compounds in soil bacteria for the production of a new generation of antibiotics. 
Dr. Lettini also mentors her students to present their research at local and regional conferences, including the University's annual research conference, the Southeastern Pennsylvania Consortium for Higher Education Honors Conference, and the Annual Biomedical Research Conference for Minority Students, where her mentee this year was selected for a prestigious student presentation award. She consistently demonstrates a student-centered approach to teaching and research.
Dr. Lettini has been and excellent faculty advocate and leader in her roles as the co-chair for the Strategic Planning team, the chair for Promotion and Tenure, and the current chair for the Faculty Council. She has also served extensively on the Faculty Development Committee and as a mentor for new tenure-track faculty in the School of Arts and Sciences Mentorship Program.