GMercyU Staff Member's Documentary Shown at Autism Conference
Frank Petka, GMercyU's Director of Procurement, Accounts Payable, & Copy Center, has a passion for creating films and he recently finsihed one about his best friend Nick Fergus, who is also known as Nick Lightning. The documentary is titled Nick Lightning, and it follows the story of Nick, who was diagnosed with autism during his adulthood.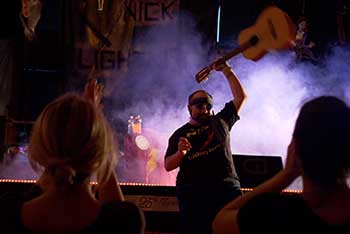 Growing up, Nick and his parents always knew there was something different about him, but no doctor could identify his disability. Now, after years of searching for an answer, Nick's family has finally found some closure after one doctor diagnosed him as being autistic.
The documentary follows Nick's journey through life and his alter ego Nick Lightning. Nick Lightning is his way of escaping the mainstream world and living out his dream as a real rock star. He has been performing at local recreation centers for 25 years and does livestreams on Facebook.
Frank's inspiration for the film was that he wanted to share Nick's story with the world and spread awareness about autism. He had the opportunity to share the documentary at GMercyU's 2022 Autism Conference, which he and Nick attended.
"The film was well received and it seems to have accomplished what we had hoped for... to be both educational and inspiring to all people, not just those labeled with disabilities," Frank said.
Frank continues to seek out other organizations who are interested in showing the film and/or might have a job opportunity for Nick, so he can thrive using his special skills in a productive manner to help those dealing with a disability. He is also considering distribution or lengthening the film to a feature documentary.
You can view the trailer for Nick Lightning here.