GMercyU Welcomes New AVP for Diversity, Equity and Inclusion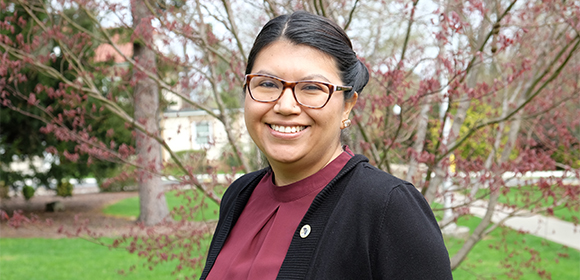 Today, Gwynedd Mercy University welcomes Tatiana Diaz, MA as its inaugural Assistant Vice President for Diversity, Equity and Inclusion under the division of Mission Integration.
"A goal of the university's strategic plan is to create an innovative and inclusive culture of excellence," said President Deanne D'Emilio, JD. "Our Mercy Mission and Core Values are the foundation for ensuring that we build a welcoming and inclusive environment for every member of our community. We are thrilled to have Tatiana Diaz on board to partner with students, faculty, staff, and Trustees to lead a strategic approach toward inclusive excellence."
Diaz was most recently Cedar Crest College's inaugural Director of Diversity and Inclusion. Prior to Cedar Crest, she served as the Director of the Student Center for Inclusion and Culture at Drexel University and as the inaugural Director of Multicultural Programs at Messiah College.
Diaz earned her bachelor's degree in Political Science with a minor in Women's Studies and a master's degree in Community Psychology and Social Change from Penn State University. In addition, she holds a Certificate in Diversity in Community and another in LGBT Health.
"I'm excited to be joining the GMercyU community as your inaugural AVP of DEI. I look forward to getting to know all the stakeholders, the student experience, our strengths, and our opportunities for change," said Diaz.
"I'm confident the Core Values of the Sisters of Mercy and the mission of the institution will be the guiding principles to the work ahead. The upcoming months will be key as we plan the road ahead, the how, and who will help us in the thoughtful conversation of what oppression, inequity, and racism are - and how we as a community can contribute to creating a true Mercy community."