Frank O. Genuardi Legends Field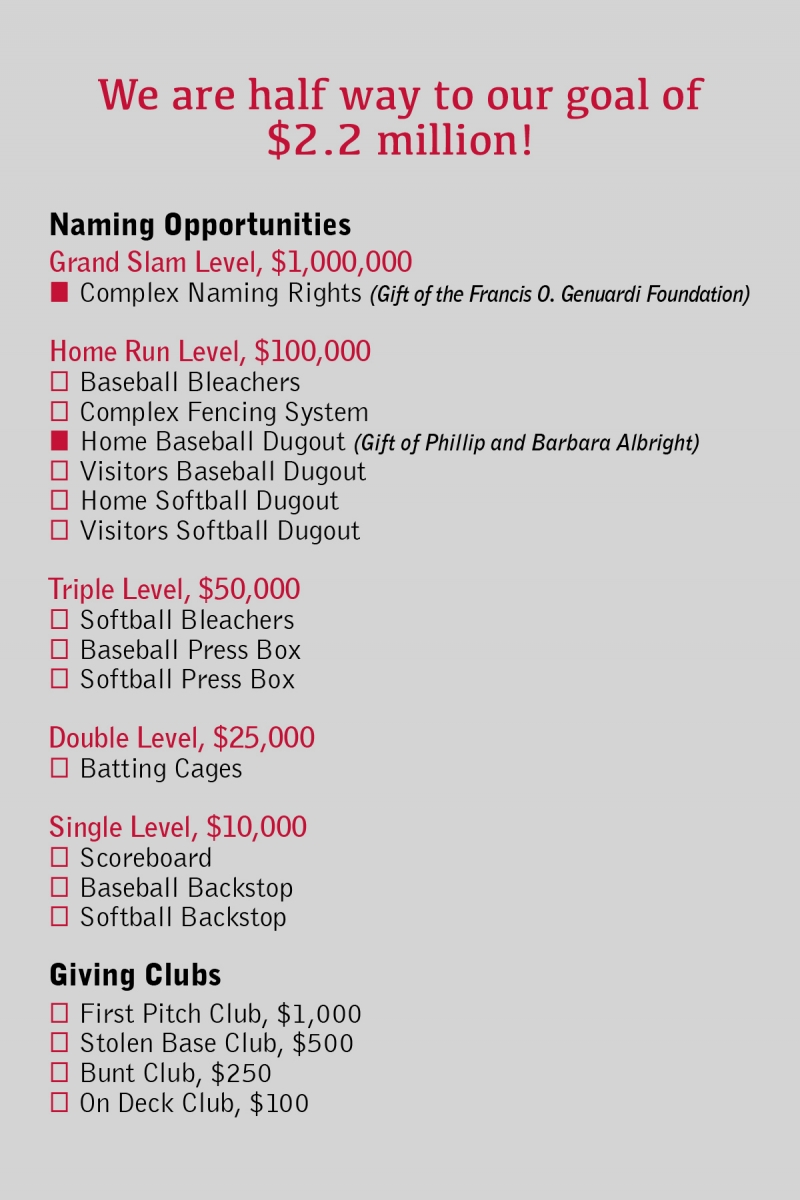 Gwynedd Mercy University has a long and successful baseball and softball tradition that includes four Conference Championships and five NCAA Tournaments. As we celebrate this history, we also recognize the need for essential upgrades that will complete our vision for the future. Seeking to create first-class facilities on par with Division III rivals, a fields renovation campaign was established. This exciting project will dramatically transform our baseball and softball fields to address important safety concerns for players and fans, promote skill development, allow for more focused practices and games, and help to recruit and retain top student athletes.

Our top priorities for the baseball and softball fields include the following:
Dugouts for home and visitor teams
Batting cages
Bleacher seating and press box
Scoreboard and backstops
Fencing system
Protective Netting
The Legends Fields project was kicked off with a $1 million gift from the Frank O. Genuardi Foundation. Frank was a beloved community leader, philanthropist, trustee and Fantasy Camp hall of famer.

The public fundraising phase begins now with a goal of $1.1 million remaining toward reaching our goal of $2.2 million. You can play a historic role in making the completion of Legends Fields a reality by supporting the project today. Please review the opportunities and consider an option that works best for you.

We hope you will join us in funding this worthy endeavor. Your gift will boost the spirit of our sport team members, increase attendance and enthusiasm at games, enhance the professionalism and beauty of our facilities and campus…in essence give our team a true home field advantage!

Sincerely,

Pete O'Hara
Head Baseball Coach, Associate Director of Athletics
Keith Mondillo, Director of Athletics


Have questions about joining the team?
Call Keith Richardson, Vice President of Institional Advancement, at 215-641-5577.