Online Master of Science in Clinical Mental Health Counseling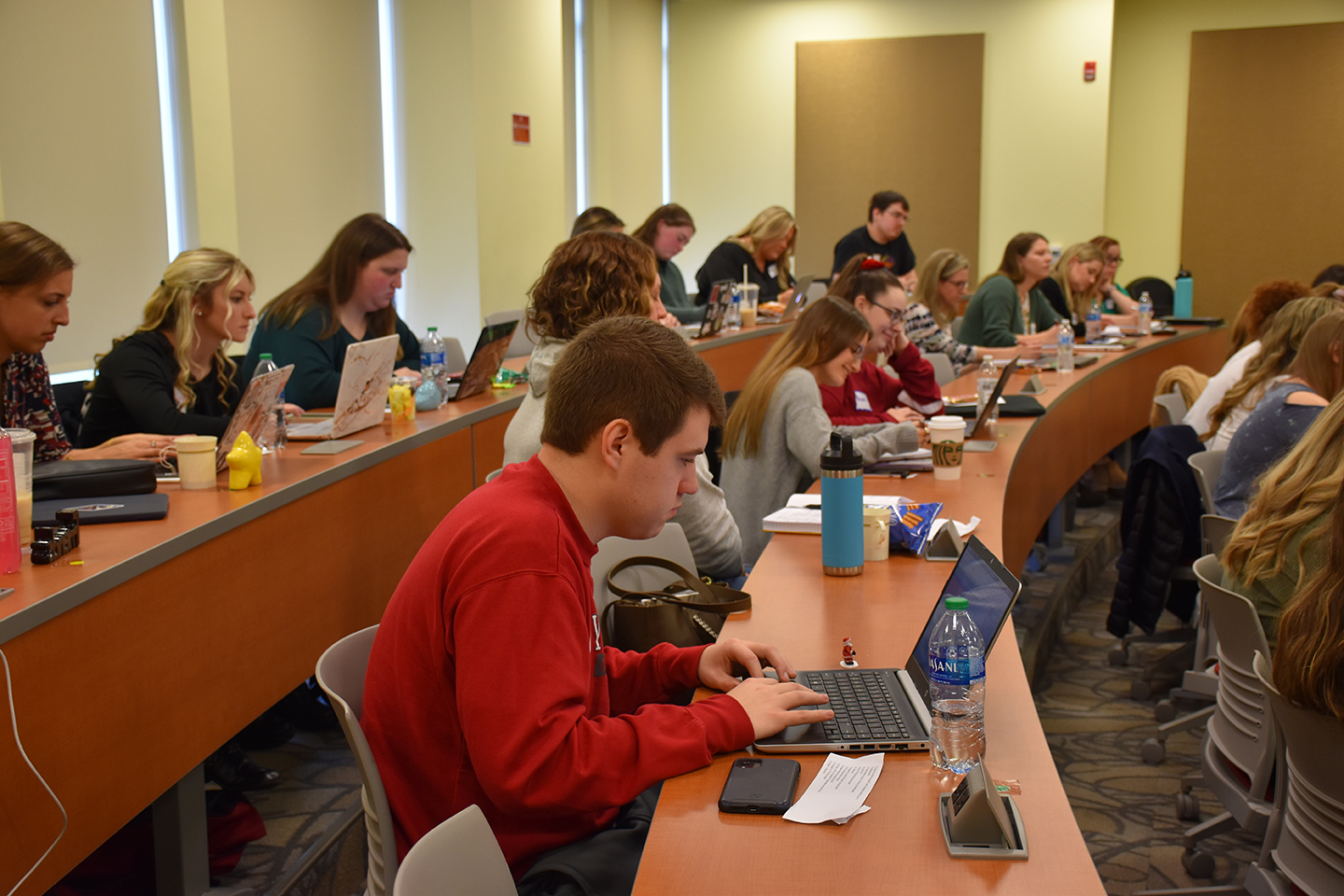 Earn Your Clinical Mental Health Counseling Degree at GMercyU
GMercyU's Clinical Mental Health Counseling (CMHC) concentration is designed to prepare entry-level counselors who can work in a variety of settings, including community programs, social service agencies, and private practices.
Based on a scholar practitioner model, our CMHC program provides the academic foundation, as well as the clinical training and experience, for our graduates to secure jobs in the setting of their choice upon graduation. 
Our Master's Degree in Counseling - Clinical Mental Health Counseling Concentration consists of 60 credits of course work. The core curriculum makes up 30 of those credits, and the other 30 are within the concentration.
| | | |
| --- | --- | --- |
| CNS 502 | Counseling Agencies | 3 credits |
| CNS 503 | DSM / Psychopathology | 3 credits |
| CNS 505 | Marriage and Family Counseling | 3 credits |
| CNS 510 | Group Counseling and Facilitiation Skills | 3 credits |
| CNS 513 | Internship I (CMH) | 3 credits |
| CNS 520 | Internship II (CMH) | 3 credits |
| CNS 521 | Internship III (CMH) | 3 credits |
| CNS 527 | Electives | 9 credits |
 See the core curriculum on our Master's of Counseling page. See all course descriptions in the graduate catalog.

You will complete a total of 100 hours of practicum experience, plus 600 total hours of supervised internship, divided among three internship sites. This will prepare you for eligibility for License as a Professional Counselor (LPC) in the State of Pennsylvania. Graduates from the program must pass the National Counselor Exam and fulfill the required post-degree supervision requirements to earn the LPC credential in the State of Pennsylvania.

*Licensure: This program was designed to meet the licensure requirements of the Commonwealth of Pennsylvania. If you reside in a different state, you should carefully review your home state's licensure requirements prior to enrolling in this program. For more information, please visit our Program Licensure Requirement page.
Our program's preparation is an essential step toward licensure, an important professional achievement that marks the end of your time as an entry-level counselor. Post-graduate, pre-licensed counselors work under the supervision of a licensed counselor to fulfill their state's requirements for supervised experience.
In Pennsylvania, this requirement entails 3,000 hours of supervised clinical experience that must be completed in no less than 2 years and no more than 6 years. Because of this, the licensure process can take several years beyond graduation to complete.
Is this information new and a little overwhelming? You can count on us to help you sort through it all.

One of our program's strengths is in helping our students understand counseling as a profession so that they are prepared to navigate their post-graduate experience with confidence.
From special workshops to mentoring meetings, our students can count on getting practical support on an ongoing basis throughout their time at GMercyU.
Another important attribute of our program is that you'll be taught by professionals who have not only received an advanced degree in counseling but who have had significant clinical experience. This is important because counseling, unlike other professions, doesn't just involve academic learning.
In fact, we believe that some of the most important learning you will be doing throughout your time with us is about yourself.  
Our students graduate knowing answers to questions like: 
What are my strengths and challenges as a learner?  As a counselor?
What is my counseling style?
What clients do I most enjoy working with?  Why?
What counseling setting is best suited to me?
Helping you to achieve clarity about who you are as both a person and as a professional is an important goal for us.
We will consider you for admission to our online clinical mental health master's degree based on your academic ability, expression of interests and goals, life experience, and personal interview.
 
To apply, you must:
Hold a baccalaureate degree from an accredited institution of higher education;
Demonstrate completion of the following undergraduate prerequisites:

3 credits in General Psychology, Developmental Psychology, Theory or another foundational course
3 credits in Research Methods or Statistics;

Submit official transcripts from all academic institutions attended;
Demonstrate achievement of a minimum grade point average (GPA) of a 3.0 on a 4.0 scale (see below if your GPA was lower than 3.0 and you do not currently hold a graduate degree);
Complete of the Gwynedd Mercy University Graduate Application and pay the application fee;  
Submit two letters of recommendation from:

An academic who can attest to your academic ability (preferred), and
A professional or supervisor who can attest to your professional qualification, abilities, and temperament for the field.  

Complete a personal statement (3-5 pages maximum) that address the following:

Who you are and your reasons for choosing a career in clinical mental health counseling;
Why you have chosen GMercyU's online clinical mental health counseling program;
What being a clinical mental health counselor means to you, and personal characteristics that make you uniquely suited for such a career;
Your expectations of learning in an online program and your ability to meet those expectations;
How you plan to complete the field placement demands of the program.

Attend a personal interview with program staff.
NOTE: If your GPA was lower than 3.0, you must provide proof of acceptable scores on the Graduate Record Examination (GRE).  We require a combined score of 292 or higher, and you must also complete the analytical writing test.

The GRE requirement is waived for applicants who currently hold a graduate degree or applicants who achieved a GPA of 3.0 or higher.
You may transfer up to six (6) credits of graduate work completed at an accredited institution for comparable courses into the GMercyU program, provided you earned at least a B in each course. Transfer credit decisions are made on an individual basis.
Clinical Mental Health Certificate Program 
The post-graduate Clinical Mental Health Certificate program is designed for graduates of Gwynedd Mercy University's Master in School Counseling program. This certificate program requires 12 credits of graduate counseling courses (including a 200-hour internship in a clinical mental health setting) and offers these students a process to complete the credits required to sit for the NCE and ultimately seek licensure as a professional counselor.