How to Become an Occupational Therapist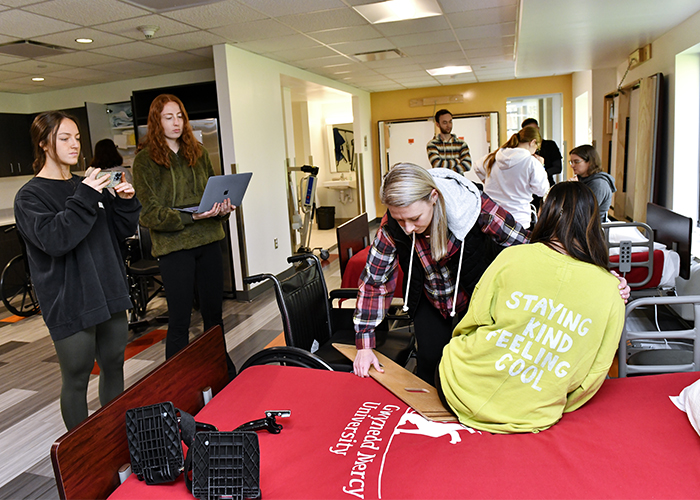 Are you wondering, "How can I become an occupational therapist?" The answer to this question depends on the path of education you take. In order to become an occupational therapist, you need to earn the minimum of a Master's degree in occupational therapy. In order to do this, you can choose from one of the two most common paths of education. First, you may be eligible to enroll in a dual degree program where you can earn both a bachelor's degree (the major to this degree varies by institution) and a master's degree in OT. The second way is to graduate with a bachelor's degree while completing required prerequisite courses and other OT program admission requirements and apply as an entry-level master's or entry-level doctoral student. These two paths are further explained next.

Get a Bachelor's Degree
There are several bachelor's degree options for individuals looking to begin their academic journey towards entering into an OT program. For example, some common options for bachelor's degrees include biology, health science, social behavioral science, psychology, or exercise science/kinesiology. These are some of the common majors of applicants applying to OT programs. 

Dual Degree Path
If you are finishing high school or taking courses as an undergraduate student, you can apply or transfer to a college or university that offers a dual degree path to earning a bachelor's degree in a pre-determined major and a later master's in OT (this is the most common terminal degree today). Some colleges and universities offer guaranteed admission to the master's program (while meeting program requirements) while other colleges and universities do not offer this guaranteed benefit. It is important for you to understand whether a guaranteed seat option exists while applying for and selecting an OT program. The choice of a college or university's bachelor's degree major under a dual degree path is also important. 


Obtain a Dual Degree at Gwynedd Mercy University
At Gwynedd Mercy University, we offer the guaranteed seat option to the master's program (while meeting program requirements) and we offer a very unique undergraduate major as a part of the bachelor's dual degree path. Gwynedd Mercy University is one of the few colleges and universities in the nation that offers a bachelor's degree in Occupational Science. Occupational Science is the study of the occupations of everyday life. Occupations are the day to day activities that hold varied meanings, functions, and abilities needed for everyday participation. Occupational participation or lack of occupational participation is linked to health and well-being for individuals and populations and Occupational Science is centrally concerned with this understanding. Occupational Science is uniquely suited to preparing students to understand the complexities of how health and disability influence the performance and participation of meaningful daily activities of clients receiving OT. Learn more about our Occupational Science degree program!

Master's Degree Path
If you already earned an undergraduate degree, you can take the entry-level Master's path to becoming an occupational therapist. Not only is a master's degree in occupational therapy a necessary qualification for prospective licensed occupational therapists, it also is extremely helpful in learning more in-depth, specialized information that you need to know as a professional in the field. 

You will have to ensure that you have completed or are in the process of completing all prerequisite courses and other program admission requirements (volunteer/work hours, letter of recommendation, etc.). All graduate programs are different so it is important that you find programs that are appealing to you. All OT programs have variable tuition rates, lengths for completion, number of credits, cohort sizes, instructional spaces, curricula, faculty experiences, fieldwork options, and so on. Admission to OT programs under this path is very competitive both regionally and on a national scale. To increase your chances for acceptance under this path, it is important to have good grades (especially in your prerequisite courses) and articulating what makes you both a unique and qualified candidate for admission.
What Makes a Good OT Master's Degree Program?
When exploring different OT graduate programs, it's important to look for certain institutional characteristics that are particularly effective in an academic setting. A few to look for would be:
A wide variety of diverse coursework options
Effective mix of practical learning in the field and traditional classroom lecture
State-of-the-art facilities
Plenty of options for fieldwork opportunities
Small class sizes
The opportunity for individualized faculty advisement, if needed

Obtain a Master's Degree in Occupational Therapy at Gwynedd Mercy University
At Gwynedd Mercy University, we offer a graduate education that is unique and distinct. Our 77 credit program can be completed in just 26 months. Our program philosophy is consistent with the core values of the Sisters of Mercy tradition and holds a strong emphasis on professional development, as well as ethical, client-centered, occupation-based, and evidence-based practices. Our program utilizes new classroom and practice labs as well as participate in diverse fieldwork options in both emerging and traditional practice areas. Learn more about our Master of Science in Occupational Therapy program!

Pass the NBCOT Occupational Therapist Exam
After you have completed course and fieldwork requirements and have graduated from an accredited OT program, you will need to sit for the National Board for Certification of Occupational Therapy (NBCOT®) exam. The purpose of the NBCOT® certification exam is to protect the public interest by certifying only those candidates who have the necessary knowledge of occupational therapy to practice. Passing the NBCOT® certification exam is a requirement for attaining state licensure. Once you pass the NBCOT® certification exam, you can apply for state licensure. Occupational therapy licensure varies by state so it is important to understand licensure requirements for the state(s) you intend to practice.

Apply for an Occupational Therapist License
Once you pass the NBCOT® certification exam, you can apply for state licensure. Occupational therapy licensure varies by state so it is important to understand licensure requirements for the state(s) you intend to practice. Some of the statutes and regulations vary slightly, but you'll find that they all follow similar guidelines.

Check State Specific Requirements
Pennsylvania
GMercyU's home state has very straightforward, common rules about official licensure. Applicants must pass the NBCOT exam to earn their license. If you are a Pennsylvania resident, you can view this information on the PA State Board of Occupational Therapy's website.
California
California has very similar licensing laws to PA in that applicants are required to pass the NBCOT exam. That being said, it's still helpful to look at the board's website to get a look at their state-specific steps, and their background check.
Texas
Again, Texas licensing laws lean heavily on the successful completion of an NBCOT verified examination and subsequent background check. If you're interested in possibly obtaining an OT license in Texas, or if you're curious about the ins and outs of their process, take a look at their board's website.
Florida
Florida's application process is fairly standard, but they place slightly more influence on fieldwork experience than some other states. Just like every state's particular regulations, it can be very helpful to take a close look at their website for particular details.
Other States
The most important thing to take away from this section is that it is very important to educate yourself on the rules and regulations of the state you'd like to work once becoming an occupational therapist. Most states have common legislature surrounding OT practice, but it's extremely important for those in the field to know the ins and outs of the laws in their state.

Common Occupational Therapist Career Questions
Now that you may have a better understanding of how to become an occupational therapist, you may have some other questions related to salary and employment trends. Here are some answers to some common questions about OT. 
How much do occupational therapists make?
According to the U.S. Bureau of Labor Statistics, the median annual wage for occupational therapists is $84,270. The lowest 10% of occupational therapists earn less than $55,490 annually whereas the top 10% of occupational therapists earn more than  $120,750 per year. For more information on median annual wages for occupational therapists by practice setting, you can visit the U.S. Bureau of Labor Statistics webpage.
Are occupational therapists in high demand?
Occupational therapists have an exceptionally positive employment outlook. According to the BLS, the average projected growth for all jobs from 2018-2028 is around 5%. The average projected growth for health practitioner roles is 13%, and for OT job growth it is at 18%, which is more than three times higher than the national average. That is a promising statistic for prospective occupational therapists.