What Can You Do With a Biology Degree?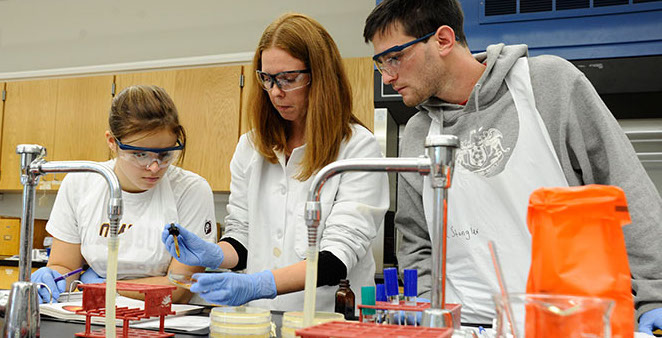 Careers in biology are as varied as the people who pursue them. A degree in biology can be the first step to a career in research, health care, environmental protection, or even education. During your studies, you'll learn how to make predictions, conduct research, and deliver presentations as you work to uncover the fundamental mysteries of life as a biology major.

What Do Biologists Do?
Types of Biology Degrees
Careers in Biology
How Much Do Biologists Make?
Next Steps for Biology Degree Graduates
Your GMercyU Path to a Degree in Biology

What Do Biologists Do?
You might find yourself asking, What does a biologist do? There's not just one answer; in fact, there are so many things you can do with a biology degree. A bachelor of science (BS) degree in biology can help prepare you for a future that includes research, lab work, and graduate or medical school, among many other career options. While the field of biology is broad and offers many possible career outcomes, the industry as a whole is expected to increase over the ten five years and continues to be as expansive and diverse as ever.

Types of Biology Degrees
Biomedical Engineer

Botany

Environmental Studies

General Biology

Marine Biology

Medical Researcher

Microbiology

Molecular Biology

Pre-Medical Studies


Zoology

Careers in Biology
There are many occupations you can pursue with a biology degree. Below are some examples of these careers and what you can expect to make if you decide to work in any these fields, according to the Bureau of Labor Statistics.

Medical Researcher
If you're more interested in studying human diseases than practicing medicine, a career in research might be a good option for you. Often, researchers conduct clinical trials and employ other investigative methods to learn about preventing and treating diseases. Medical Researchers work to study human health through clinical trials and researching. They analyze diseases in order to develop cures and treatment procedures in order to prevent the spread of illnesses. Most medical researchers work in offices or laboratories, and they typically need an advanced degree.

Average Medical Researcher Salary: $95,310 /year

Biomedical Engineer
A combination of engineering and biology, the field of biomedical engineering involves designing and creating medical equipment, devices, computer systems and software that are used in health care settings. A biomedical engineer uses biology to develop medicine and physical cures for illnesses and injuries in a broad sense. Their responsibilities can range from creating medicinal treatments, artificial limbs, pacemakers, and implantable medical devices depending on the specialty of the career.

Average Biomedical Engineer Salary: $97,410 /year

Veterinarian
Biology coursework can prepare you for success in veterinary school or go into other areas of animal care. Veterinary schools don't have a specific major they require for admission, but they often prefer candidates with a science-heavy course load, in addition to strong performance in English and public speaking courses. Veterinarians are doctors that specialize in animal care and their responsibilities include the normal daily care of animals, specialty surgeries and medical treatment for animal illnesses.

Average Veterinarian Salary: $100,370 /year

Environmental Conservationist
Conservationists can work in laboratories, museums, universities or at various other sites around the world. In the field of conservation, there are several avenues: a conservationist could work "on the ground" cleaning and preserving artifacts or in a lab researching conservation materials and methods. Conservationists also work to preserve history in museums and are employed as professors at universities.

Average Environmental Conservationist Salary: $63,750 /year

Genetic Counselor
Genetic counselors work with families to evaluate their risk of inherited medical conditions and provide them with support and options for the future. In addition to a degree in biology, genetic counselors also have medical degrees. They work in places such as doctors' offices, hospitals, and insurance companies.

Average Genetic Counselor Salary: $80,150 /year

Quality Control Inspectors
Quality control involves making sure a company or lab is in compliance with regulatory requirements through auditing and other quality assurance methods.

Average Quality Control Salary: $38,580 /year

High School Science Teacher
In order to teach biology to middle and high school students, you'll need to earn a teaching certificate in addition to an undergraduate degree in biology. Of course, you also have the opportunity to continue your education. In order to teach at the postsecondary level, you'll likely need a master's or PhD. As a science teacher, you will be working with students of various ages and educating them about science topics. You will have the ability to create meaningful coursework to inspire younger generations of students.

Average High School Science Teacher Salary: $61,820 /year

Physician
You'll be well prepared for the biology-heavy coursework involved in the medical school curriculum once you've completed a bachelor's degree in biology. As a physician, you can expect to examine patients, diagnose illnesses, prescribe medicine and manage diagnostic tests.

Average Physician Salary: $208,000/year

How Much Do Biologists Make?
A biologist's salary can depend on a number of factors, including education level, geographic location, industry, and the specialized field you choose. Salaries can range from $38,580 a year as a quality control inspector to over $200,000 a year as a physician.

Next Steps for Biology Degree Graduates
Biology degree graduates can move on to a wide variety of career opportunities and can also continue their education by furthering their degree. Biologists can choose to focus their studies in one subfield of biology, including biochemistry, cellular biology, ecology, genetics, molecular biology, or physiology, although many of these fields overlap at times. Regardless of which area biologists choose to specialize in, they all conduct research based on the scientific method, whereby they form a hypothesis, run an experiment, and document the results. By continuing their education, biology graduates will enhance their research skills and will be more able to compete in this job field.
| | |
| --- | --- |
| Next Steps after Getting Your Degree | Percent |
| Continuing Education | 32.5% |
| Working in the Field | 49.2% |
| Working & Continuing Education | 5.7% |
| Unemployed | 6.3% |
| Other | 6.3% |

Your GMercyU Path to a Degree in Biology
GMercyU students have the benefit of small classes, taught by professors with doctorate degrees. In addition to labs that accompany all required courses, summer research opportunities are available for interested students. These opportunities have paid off, as students at GMercyU routinely score well on the nationally-normed ETS® Major Field Test in Biology. In fact, GMercyU's biology students scored in the top 5% in cellular biology, the top 18% in molecular biology and in the top 18% overall among all other institutions whose seniors took the test in 2018.

Once accepted into the biology program at GMercyU, you can apply to join the Ethics in Science, Technology, Engineering and Mathematics (E-STEM) Program, our National Science Foundation-sponsored program that provides scholarships to students in the sciences. At GMercyU, for example, students who pursue biology degrees automatically earn a minor in chemistry.

Whatever career you intend to pursue after graduation, a biology degree from GMercyU can be a great first step!