Strategic Plan, 2019-2024

Since 2018, President Deanne H. Emilio, JD, the Steering Committee, and University faculty and staff have been hard at work brainstorming, planning, and executing Gwynedd Mercy University's new Strategic Plan.

The Strategic Plan serves as a five-year roadmap for the University, detailing how it will adapt to the constantly shifting higher education landscape. Amidst exciting projects and opportunities, such as the recent sale of East Campus, the plan will also keep the University's goals and growth in line with our mission and values.


Developing the Plan
Planning kicked off in March 2018 with a GMercyU Community Day, which brought the campus community together to submit their thoughts and ideas of where they saw the University heading in five years. The activity was led by CREDO, an organization that specializes in strategic planning for higher education institutions. CREDO is our partner through the Strategic Planning process and implementation. Using the feedback, ideas, and views gathered from the University community, CREDO helped us develop a Strategy Map — a visual representation of our institution's strategy to achieve our goals: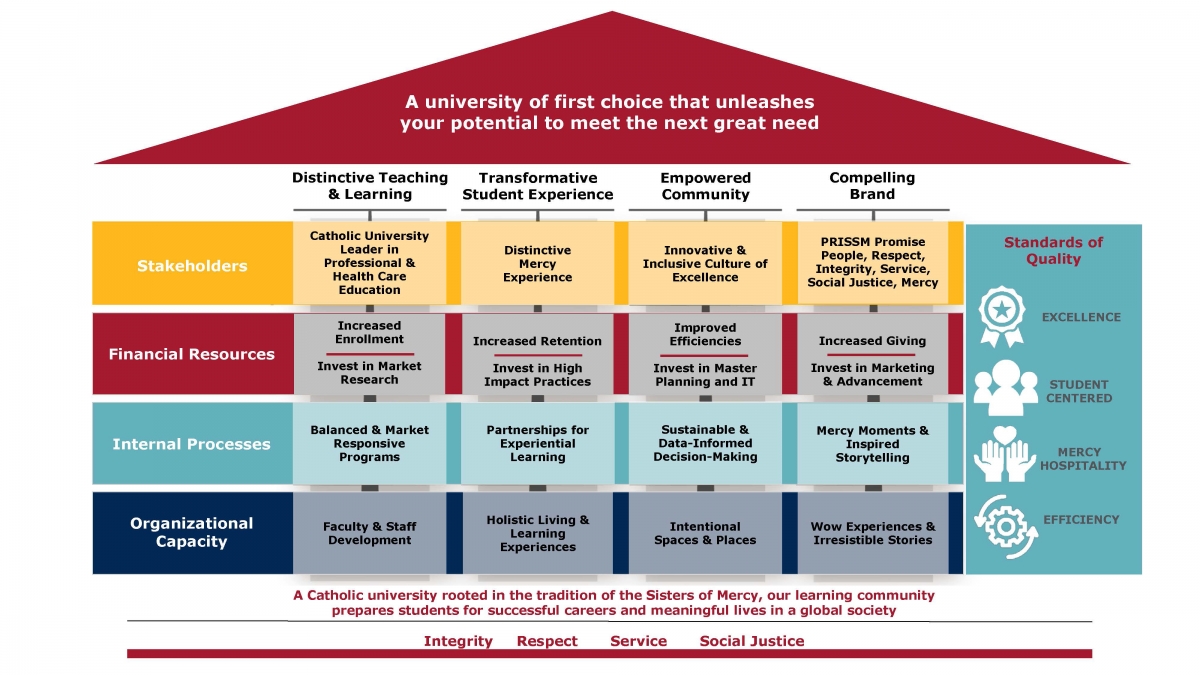 The map details the four themes at the core of the Strategic Plan: Distinctive Teaching and Learning; Transformative Student Experience; Empowered Community; and Compelling Brand. Each pillar houses various objectives and initiatives specific to that theme:

Distinctive Teaching and Learning: This theme is focused on developing cutting-edge new programs as well as existing GMercyU programs. It also includes a focus on innovative spaces and technology for our students.

Transformative Student Experience: This theme is focused on our students' experiences at GMercyU and how we can fulfill their needs and exceed their expectations. This includes developing partnerships for experiential learning opportunities, such as internships, clinicals, study abroad, student teaching, undergraduate research, and more.

Empowered Community: In order to support our students, we need to have a strong and empowered community. This theme includes initiatives focused on improving technology and systems so faculty and staff can work more efficiently and proactively. This theme also focuses on our Campus Master Plan, which includes plans to develop and utilize the new East Campus.

Compelling Brand: Centered around creating WOW experiences for our community and crafting irresistible stories, this theme includes initiatives involving alumni, new traditions and experiences, and more support for student success.
Through the Strategic Plan, the University also has developed a Vision Statement to help guide the University as we embark on this ambitious plan. The Vision Statement, along with the overall plan and implementation, is meant to inspire everyone in the GMercyU community to work together to accomplish the overall goals of the Strategic Plan.
 
A university of first choice that unleashes your potential to meet the next great need.

—VISION STATEMENT
 
In August 2018, volunteers from across campus began working on Theme Teams, created to start developing individual initiatives within each of the four themes. All four Theme Teams consisted of approximately 60 members of the University community who gathered during the months of August and September for a total of four two-hour meetings. Based on the work of the Theme Teams, the Strategic Plan draft was completed in October 2018.

Once the draft of the plan was in place, President D'Emilio hosted a Community Affirmation of the Strategic Plan that November where faculty and staff could offer their feedback before it was submitted to the Board of Trustees for approval. On December 5, 2018, the Strategic Plan was enthusiastically approved by our Board of Trustees, and we excitedly prepared for its implementation in January 2019.


Plan Progress
In August 2021, Gwynedd Mercy University began year three of our five-year Strategic Plan. Despite the pandemic's many unexpected challenges, the University has continued making exciting progress on the plan's goals.
Focused on developing cutting-edge new programs as well as expanding existing programs, GMercyU has launched a variety of new bachelor's and master's degrees in areas such as public health and a new concentration, Artificial Intelligence and Machine Learning, for our Computer Information Science program.

GMercyU has also developed 10 Memoranda of Understanding (MOUs) to support enrollment and student success, including Core-to-Core agreements with other institutions and Intermediary Units. And, an inventory of our current spaces and technologies has been completed and merged with GMercyU's Facilities Master Plan. University-wide focus groups helped inform the Facilities Master Plan, which is nearly complete.
GMercyU has continued to refine our Distinctive Mercy Experience, now called The Griffin Edge, which helps students set an intentional, reflective, and proactive college journey. To better help all students, faculty and staff feel seen and heard, the University has also dedicated resources toward advancing diversity, equity and inclusion initiatives that foster a culture of inclusive excellence.
GMercyU also launched a new enterprise resource planning system, Colleague, for faculty, staff, and students, as well as a new database, Raiser's Edge, for University Advancement.
A new "Moving the Needle" program is focused on increasing retention by ensuring each stage of a student's GMercyU journey is student-centered. Memory-making traditions, such as our Fall Fest Food Truck Festival, Assumption Hall's Christmas Tree Lighting, and the Bell Tower Prayer and Ceremony during New Student Orientation have been incorporated into the GMercyU student experience.

Download a copy of the Strategic Plan (PDF).