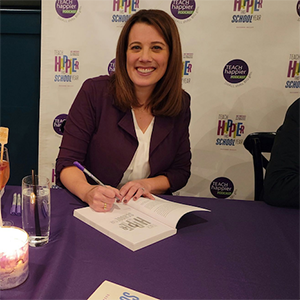 Once they're our kids, they're always our kids.
Nearly 20 years after graduating from GMercyU with a MS in Education degree -- then called "Master of Reading" -- Suzanne is still close with her girlfriends from the program. They call themselves the "grad girls," and still get together once every other month.
Suzanne distinctly remembers her first class with Dr. Mary Carroll, who told her students "you will be able to teach writing with a paper and a pencil," and that's exactly what Suzanne accomplished.
Suzanne's Career
Suzanne's role in education has changed over the years. She taught fourth grade for seven years, served as a reading specialist for kindergarten and third grade, and is now an Elementary Instructional Coach within Central Bucks School District.
Her inspiration for pursuing her master's degree began when her current principal requested she design and facilitate workshops for her fellow teachers. Suzanne started by teaching literacy workshops with a focus on reading and writing.
The stars aligned when the current instructional coach was retiring, and Suzanne decided to take the leap. She knew her new role would be important for her colleagues and peers within Central Bucks.
In her role as an Instructional Coach, Suzanne actively supports about 550 elementary colleagues. She facilitates professional learning workshops, teaches model lessons, and coaches colleagues on how to strengthen the teaching and learning in their classroom.
I honor and validate and celebrate what teachers are doing now, and I can invite them and encourage them to incorporate strategies or instructional materials that may strengthen their classroom.
Suzanne is also in charge of new teacher orientation, where she works closely with newly hired teachers to acclimate them to the district, curriculum, and effective instructional practices for implementing that curriculum. In each session, she reminds new teachers that "this is the best job in the world. I'm going to support you by providing resources and strategies to do that job."
One of her favorite aspects of the job is playing "professional matchmaker," where she connects teachers from all sides of the district.
"I feel like in this role I'm able to impact a lot of kids, whether it's directly or by impacting their teachers," said Suzanne.
Teach Happier
"There's no job that's more worthwhile. Teaching creates goodness in the world," said Suzanne.
In January 2023, Suzanne released her first book, Teach Happier this School Year: 40 Weeks of Inspiration and Reflection.
Suzanne's inspiration stemmed from the difficulties she and her colleagues faced during the pandemic. During this time Suzanne had faced her own struggles with losing her mom to Alzheimer's and caring and supporting for her neurodiverse child while supporting hundreds of colleagues simultaneously.
Suzanne continuously asked herself how she would make it through these tough times. In her quest to seek help, she found that although there were many self-help resources out there, there are few to none that are designed specifically for teachers. Suzanne realized that simple, two-degree shifts in thoughts, language, or actions made life more manageable during challenging seasons. Doing the really small things each day made huge differences.
Teach Happier this School Year enables Suzanne to share her small life changes that made a big impact with educators across the globe.
Releasing the book has also made a childhood dream of Suzanne's came true. In first grade, her teacher typed up stories the students would write, and included a title page and an "about the author" section. It made every student feel like a writer. It was her first grade teacher who told Suzanne she was a writer, so she always believed she was. And now that dream has been realized.
Advice for Future Educators
When asked what advice she has for future educators, Suzanne simply replied, "Keep the main thing the main thing. The main things are the human beings in front of you."