Gregory Borgmann
Criminal Justice 2013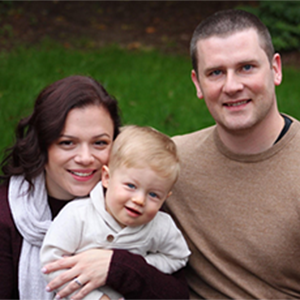 Current Position: Police Officer, Upper Dublin Township Police Department
When Greg Borgmann graduated from GMercyU, he was able to pursue his goal of helping others right away. "While still a senior at GMercyU, I applied for and was offered a patrolman position with the Upper Dublin Township Police Department," said Greg. "I started the month after graduating, and I've been there ever since."

But the road to where he is today wasn't always easy. In fact, growing up, academics were difficult.
I was a struggling reader, second grade repeater, school-hating kid. Fast forward to college and that all changed. I found my purpose, found my reason, and found my inspiration with the help of GMercyU.
As a GMercyU Criminal Justice major, Greg was a member of the Criminal Justice Club and the Student Government Association. He was also a stand-out athlete and captain of the track & field team. Greg holds GMercyU's all-time discus record and second all-time record for javelin. In his sophomore year, he switched from throwing to decathlons, and he ranks in the Top 5 for decathletes in GMercyU's history. He even came back to campus to serve as a throwing coach for track & field from the winter of 2017 to the spring of 2018.
My favorite memories would have to be on the track field, participating in clubs, and making lifelong friends.
"Most importantly, GMercyU is where I met my wife during freshman year. We've been together for 10 years, married for three, and now have the perfect addition with our son, AJ."

Here's more about Greg's GMercyU experience, in his own words...
Why I Chose GMercyU's Criminal Justice Program
Growing up, I was never sure what I wanted to do, but I always liked helping people. When choosing a major, I decided that the Criminal Justice field was for me.

I chose GMercyU because of the opportunities within the Criminal Justice program, the track team, location, smaller size, and the Mercy values. My favorite professors were my Criminal Justice professors, Doc [Criminal Justice Program Director Patrick McGrain, PhD] and Z [Walter Zdunowski, now retired].

The Criminal Justice program at GMercyU allows you to attend the Montgomery County Police Academy while you are still in school. You receive college credits for the completion of the academy, and it is part of the bachelor's degree. It provides you with the best opportunity of being hired after school.

If you are looking for a small campus with big potential, GMercyU is the perfect fit. I had the most amazing and caring professors who I'm still in contact with, the opportunity to go to the police academy, and practice serving others through my campus involvement and the Mercy Values.
My Role at the Police Department
I am now six years into my career, where I am a member of the bike team and a field training officer. When a new hire arrives with the department, I am one of the officers tasked with training them before their assignment with a squad.
My Career Goals
My most recent goal was to become a Community Response Officer on a specialized unit within my department, and I will be starting that position in January. This new position is geared towards handling residents' complaints, investigations, school liaison, and proactivity. I now would like to learn and grow in this new position and see where it takes me.
How GMercyU Prepared Me for My Career
GMercyU prepared me both in and out of the classroom. The Criminal Justice professors taught with their knowledge and experiences to give a unique look into the Criminal Justice field.

Being able to attend the police academy was the biggest blessing. Because of that, I graduated with a job. With my campus involvement, I was able to practice what I now put into place with my career.
My Advice for Future Criminal Justice Grads
My best advice would be to put the work in to be the best you that you can. Get involved! Be proactive, don't give up, and apply and interview as much as possible. You never know when your dream opportunity will present itself.

Put your best self out there and keep working hard to reach your goals.