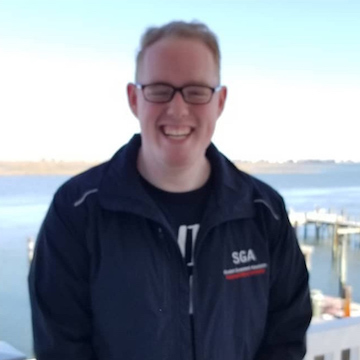 Current Position: GMercyU's Coordinator for Student Engagement 


Andrew Harbaugh started at GMercyU as a transfer student having begun his academic journey at Montgomery County Community College. What sold Andrew on GMercyU was meeting the professors and students here; he distinctively remembers being put in contact with faculty immediately, who made a memorable and warm impression on him.
Mercy is an attitude that embraces.
Though he didn't know it at the time, Mercy would be the guiding factor through his time at GMercyU and beyond. Here, Andrew learned the importance of embracing every opportunity that presented itself. His peers and friends encouraged him to get involved on campus, so Andrew first joined the Special Education Club and Campus Ministry, where he focused on service and self-care. He also joined Best Buddies, eventually becoming the Chapter President at GMercyU, where he helped coordinate and plan events for the organization's members. Andrew is still matched with his buddy, Lisa, today.

One of his most notable experiences at GMercyU was becoming a member of the Student Government Association (SGA). He served as the Recording Secretary and Vice President the year after joining. What he loved most about SGA was that it served as a platform for students to share their concerns, and the University offered resources and funds to help students improve the campus and serve student interests. Being involved in SGA also offered him the opportunity to lead trainings and attend national and regional conferences, experiences that resonate with him to this day.

What was Andrew's favorite part about GMercyU?
The Mercy mission. The Mercy aspect of a GMercyU education leads students to become a part of something bigger than themselves and allows them to enter fields that embrace societal changes.
After graduating from GMercyU with a B.A. in English, Andrew landed a job at the Pennsylvania branch of Best Buddies, where he served as a Program Manager. The Best Buddies mission is to "end the social, physical, and economic isolation of people with intellectual and developmental disabilities," Andrew said. The organization strives to make more inclusive communities for those with disabilities. There, Andrew focused on a one-to-one friendship pillar, where he oversaw school and adult programs for individuals with and without disabilities. His favorite part of the job was the opportunity to address a need in society.
In December 2021, Andrew was named Program Manager of the Year, nominated by his colleagues.
In Fall 2022, Andrew returned to his alma mater to become the Coordinator for Student Engagement, overseeing GMercyU's After Dark Program, our Discount Ticket Program, and the implementation of several key co-curricular student programs/traditions.

Today, Andrew also proudly serves on the Alumni Board.