Tiffany Cresswell-Yeager Receives Faculty Distinguished Research Award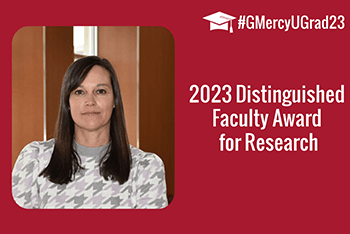 Dr. Tiffany Cresswell-Yeager joined the GMercyU faculty as an Assistant Professor of Higher Education Leadership for the EdD program in 2018. Since joining the University, Dr. Cresswell-Yeager made significant and lasting contributions in many research areas including higher education leadership, supporting first generation college students, and teaching and learning practices. She has pushed herself to develop a rigorous research agenda touching on some of the most-timely and important issues facing higher education today including issues of diversity, equity and inclusion.
Dr. Cresswell-Yeager's research legacy includes peer-reviewed journal articles, peer-reviewed chapters in edited books, panel presentations, seventeen peer-reviewed international, national, and regional conference proceedings, and over 25 invited talks. She has led countless improvements and enhancements to the EdD curriculum and facilitated several professional development workshops for her faculty colleagues at GMercyU. In 2020, Dr. Cresswell-Yeager presented her research on College Choice Among First Generation College Students on NPR's Academic Minute podcast.
Dr. Cresswell-Yeager has an infectious appetite for advancing her research agenda and often collaborates with fellow faculty and other subject matter experts. Her energy and excitement for advancing the discipline are contagious and she has instilled a renewed sense of enthusiasm among her faculty colleagues to advance their own scholarship. This enthusiasm has generated improvements across all aspects of the doctoral program and has positively impacted both the student experience and the national and international visibility of the EdD program and the University.
In addition to her own research, Dr. Cresswell-Yeager has served as Research Coordinator for the NASPA Socioeconomic and Class Issues in Higher Education Knowledge Community. She also has served as a Dissertation Advisor or committee member helping to guide the research of numerous doctoral students, and has served as the coordinator of graduate research submissions for the University Research Conference.
Dr. Cresswell-Yeager is a transformative higher education leader whose dedication to research is unmatched. As one of her doctoral students stated "She is someone who, within her teaching and scholarly pursuits, inspires others and communicates that it is possible to make a positive impact on the world through working with students, within higher education, and in research. I aspire someday to be as influential and far-reaching in that influence as she has been through her work in higher education."