Roberta Slawinski Named Graduate Commencement Speaker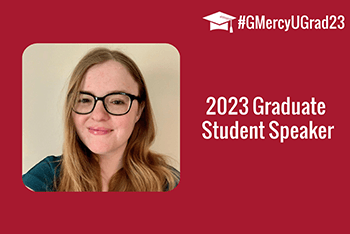 Graduate student Roberta Slawinski is serving as the speaker for the 2023 Graduate Commencement Ceremony. On Saturday, Roberta will graduate with her Masters of Science degree in Occupational Therapy.
On campus, Roberta served as the Occupational Justice Chair of the Student Occupational Therapy Organization and is also President of Epsilon Upsilon Chapter of Pi Theta Epsilon Occupational Therapy Honor Society.
Within her program, Roberta has completed her Level II fieldwork rotation at Danville State Hospital, a psychiatric facility for individuals with serious mental health diagnoses, and at Variety, the Children's Charity, where she works with children and young adults with disabilities.
Alongside her classmates, Roberta designed and implemented a promotional health and wellness program designed for women affected by interpersonal violence through a local emergency shelter. The study's purpose was to improve the overall health and well-being of women who have experienced domestic violence. To improve health and well-being, Roberta and her classmates provided social activities aimed at promoting a sense of belonging to the community and reducing stress levels.

Following graduation, Roberta plans to work within a mental health setting or
outpatient pediatrics and early intervention.