GMercyU Senior Athletes Awarded at Year-End Banquet
On Monday, May 8, Gwynedd Mercy University Athletics hosted its Senior Awards Banquet to recognize the achievements of graduating athletes in and out of season.
Athletes Manny Clark '23 and Haley Crossley '23 respectively won the Male and Female Senior Student-Athlete Awards. Trey Livingstone '23 was presented with the prestigious Donahue-Elliot Senior Scholar Award for earning the highest cumulative grade point average (GPA) in business.
Manny Clark '23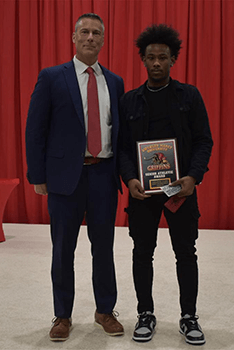 On the basketball court, Manny's achievements are nothing short of amazing. During the 2022-2023 season, Manny made three Atlantic East Conference (AEC) Weekly Honor Roll appearances and was named AEC Offensive and Philadelphia Small College Basketball Association (PSCBA) Player of the Week. Manny also led the Griffins to earn the PSCBA Team of the Week recognition. At the end of the season, Manny earned the 2022-2023 All-AEC Men's Basketball First Team Honors and the 2022-2023 City of Basketball Love (CoBL)-Area Division III Men's Basketball Fourth Team.
Off the court, Manny's hard work in GMercyU's Accounting program earned him a spot on the all 2022 GMercyU Athletics Academic Elite and a two-time appearance on the AEC All-Academic Team.
Haley Crossley '23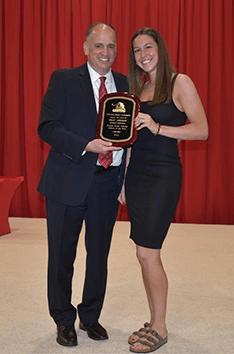 As a two-year captain, Haley garnered the 2022-2023 AEC Women's Basketball Defensive Player of the Year award and an All-AEC First Team selection to the 2022-2023 City of Basketball (CoBL)-Area Division III Women's Basketball Second Team. She was also selected for the 2023 Division III Women's Basketball All-Eastern College Athletic Conference (ECAC) Team. During the 2022-2023 season, Haley earned AEC Defensive Player of the Week three time, AEC Offensive Player of the Week two times, and AEC Weekly Honor Roll mention.
In the classroom, Haley's dedication to academics earned her recognition on the 2022-2023 College Sports Communicators (CSC) DIII Academic All-District Women's Basketball Team. She also earned her spot on the GMercyU Athletics Academic Elite two times and the AEC All-Academic Team three times.
Trey Livingstone '23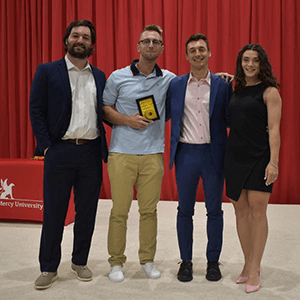 Trey found his way to GMercyU after transferring from Montgomery County Community College. He quickly found his home in the Business Management program, maintaining a 3.73 GPA and earning recognition on the GMercyU Athletics Academic Elite for two years and the AEC All-Academic Team. Outside of the classroom, he interned with the GMercyU Department of Athletics and was recently inducted into Chi Alpha Sigma, the National College Athlete Honor Society.
On the baseball field, Trey has proved to be a worthy asset, earning himself a spot in the starting rotation for the Griffins. In his two seasons at GMercyU, Trey pitched a total of 50 innings and finished his collegiate career with a 5-9 record and a 5.94 earned run average (ERA). Trey, in his 22 appearances on the field, held opponents to 66 earned runs on 123 hits and 44 walks, striking out 88.
Congratulations to Manny, Haley, Trey, and all senior athletes!