GMercyU Community Donates to Philadelphia Sexual Assault Response Center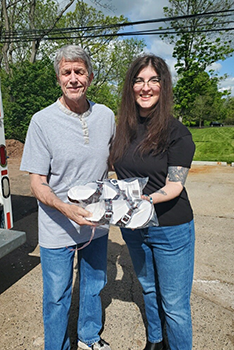 On Monday May 8, members of the GMercyU community partnered with PAZA Tree of Life to deliver donated clothing items and $600 to the Philadelphia Sexual Assault Response Center (PSARC). Among the volunteers were Title IX Director Bob Wood, Dr. Mindy MacRone-Wojton, and Professor Maria Jordan.
Donations were organized between GMercyU and PSARC's Director Alison Denman, a GMercyU alumna. Clothing items are provided to victims after a SANE examination and are a huge part of the healing journey.
Iota Kappa Sigma, GMercyU's chapter of the American Association of University Women (AAUW), Morgan's Light, and Plant Services were essential in making the donations possible.