Lauren Jani Named President's Scholar and Student Speaker for Undergraduate Commencement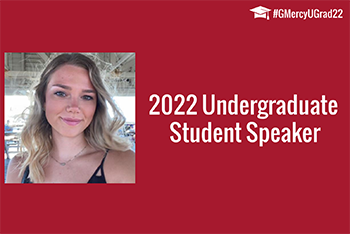 Undergraduate student Lauren Jani is being named as the 2022 President's Scholar and will serve as the student speaker for the 2022 Undergraduate Commencement Ceremony.
Lauren Jani can be characterized as one of the most involved and influential students on campus. On Satuday, she will graduate with her Bachelor of Science in Accounting and Finance.
During her time on campus, Lauren served as the Co-President of Best Buddies, a representative on the Business Student Advisory Board, and a member of the Investment Club. Lauren was also a member of the Griffin Student Leadership Institute and served as the video coordinator for GMercyU's Take Back the Night, a worldwide movement to stand against sexual violence.
Lauren is a member of several honor socities at GMercyU, including Sigma Beta Delta, the International Honor Society for Business, Management, and Administration; Sigma Phi Sigma; and Chi Alpha Sigma, the National Student-Athlete Honor Society. In 2020, Lauren was the recipient of the Institute of Management Accountants (IAM) Scholarship.
In addition to the many clubs and organizations she was involved in, Lauren was also a student-athlete during her four years at GMercyU. As a member of the field hockey team, Lauren earned many honors, including First-Team All-Conference in 2018; Rookie of the Year in 2018; Player of the Week in 2018; and Second-Team All-Conference in 2021. She was named an Academic All-American and the National Field Hockey Coaches Association (NFHAC) Scholar of Distinction all four years and served as GMercyU's female student-athlete representative at the Atlantic East Conference Leadership Experience. At the 2022 Senior Awards Banquet for athletics, Lauren was awarded the Donahue-Elliot Senior Scholar Athlete Award.
Following graduation, Lauren plans to begin her career with Lincoln Financial serving as a Finance Associate LLP. GMercyU is proud to consider Lauren Jani one of our Distinctive Mercy Graduates.