Campus Ministry Takes Part in the Synodality in Catholic Higher Education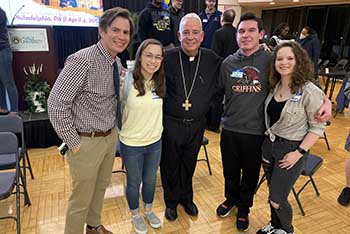 Director of Campus Ministry Jeff Wallace, alongside three GMercyU students, attended the Synodality in Catholic Higher Education on April 4, 2022. The purpose of the event was to bring together students wtihin the Archdiocese of Philadelphia's Catholic Colleges, Universities, and Newman Centers to participate in Pope Francis' invitation to participate in the global synod.
The Vatican expressed that this is a world-wide effort that is officially called "For a Synodal Church: Communion, Participation, and Mission," (https://synodalityinphillyhighered.wordpress.com/). The synod served as an invitation to listen to one another on how best to be the Church for the world and for one another.
"It has been an honor to participate in this global Synodal process with fellow colleagues, other colleges and universities in the Archdiocese of Philadelphia, and, most especially, students. My sincere hope is that what was shared during the event that took place on April 4 will make a positive impact on the Catholic CHurch in its mission to share the Gospel to all people, especially young people," Wallace said.
First-Year Social Work student Justin Hartranft was one of the students who attended the event. Justin chose to attend because his faith has always been important to him, so having the opportunity to talk with others his own age appeared captivating. He described the experience as peaceful, and it was great to hear other perspectives and connect ideas and experiences with his own. Justin and the other attendees got to know students from surrounding Catholic universities to discuss their faith.
"My biggest takeaway was feeling hopeful for the future of our generation. After listening to other people speaking, I realized that the world is full of good people with good intentions. Sure, we all have bad days or do things we wish we could undo, but at the end of the day, it's who we present ourselves to be that matters most," Justin said.