Jeff Baker '93 Serves as First Alum in Business Speaker Series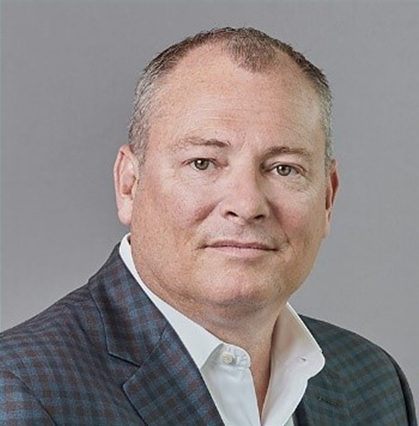 Jeff Baker '93 served as the keynote speaker in the first installment of Gwynedd Mercy University's Business Speaker Series. "It was like coming home," he said.
Becoming a Griffin
When he was young, Baker would come to GMercyU's campus with his mother, who attended classes here. Much later, he became a Griffin himself as a Computer Information Science (CIS) major but realized it was not the right fit for him. At the time, CIS was focused solely on software, hardware, and coding. He eventually switched into the business program.
"There was something really stimulating about the business world that intrigued me," Baker said.
Once he switched to business, Baker felt more at home. His favorite class was the BUS4000 seminar course where students participated in a Business Strategy Game, a simulation that encompasses all aspects of business. Even now, Baker said "I'm constantly in game theory."
Other courses he enjoyed were Business Law and Accounting.
Baker's Career
After graduating from GMercyU, Baker worked at ATI Communications where he worked in direct sales. He later worked at Nat-Com, a boutique infrastructure builder, where he assumed companywide business development efforts.
In 1995, Baker helped form Wireless Spectrum Services, an infrastructure development company. He was responsible for sales, estimating, logistics, municipal relations, and partnerships. Baker then went on to create Point by Point Network Development, a wireless and broadcast network installation company, as Managing Member.
For 19 years, Baker worked at American Tower Corp. Throughout his time there, he held a number of positions including Account Manager, Sales Manager, Director Sales Operations, Merger Integration Lead, and was a member of the National Sales Team. Additionally, Baker assumed a series of senior level roles including Vice President National Accounts, VP Carrier Relations, Area VP, and VP U.S. Vertical Markets.
Baker's current position is Senior VP of Fiber & Vertical Sales at Crown Castle, a company that owns, operates, and leases more than 40,000 communication towers and approximately 85,000 route miles of fiber supporting small cells and fiber solutions across every major U.S. market. In this role, Baker oversees Crown Castle's Fiber, Network, Data Center, and Vertical Market tower business, including company-wide emerging market development.
Why Speak to Students?
The opportunity to speak with GMercyU students allowed Baker to reflect on his career, including his time at GMercyU and the role his college experience played in setting the foundation for his success.
I really feel like they're the future.
When presenting, he placed great emphasis on the idea that hard work does pay off. Building relationships and leveraging connections are just some ways to get there. Baker expressed the importance of seeking new learning experiences and stepping outside of your comfort zone to grow personally and professionally.
Baker also shared his values with students, including being centered, a lesson he learned from his start-up experiences. He placed great emphasis on health and prioritizing family first, as well.
Advice for Students
One piece of advice that Baker has for students is that "character matters." When interviewing candidates, Baker seeks to discover what individuals will be like when things get tough. Students must have strong moral principles to fight for what's right.
Although it may be tough, Baker stressed the importance of finding a job that is fulfilling. Find companies that align with personal values. Don't just see what a company has to offer, hear the experiences of others.
When searching for jobs, don't be discouraged by the description. Apply regardless of requirements and experience. To really stand out, have diversity in experience, volunteer, and take past jobs and internships seriously.
Being Successful in the Workplace
In his presentation, Baker shared four tips on how to be successful in the workplace: understand business, take initiative, build relationships, and be authentic.
Certain characteristics are necessary to be successful in the workplace, and Baker mentioned a few he looks for when hiring. Candidates should possess a college degree, have character, possess time management and collaboration skills, have the ability to problem solve, and be able to adapt.
Preparing Ethical Business Leaders
In today's world, everyone must rely on those around them to get the job done, but it can't happen without trust. Customers, vendors, and employees must find trust in one another.
"The only way you perform at your best is when people feel great about what they're doing," said Baker.