GMercyU Signs The Treaty of Renewed Friendship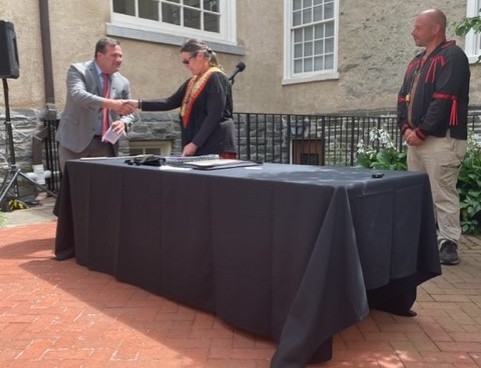 Gwynedd Mercy University participated in the signing of The Treaty of Renewed Friendship with the Lenape Tribe on August 16. The signing took place at Haverford College and Vice President for Mission, Planning, and Effectiveness Jim Gallo served as GMercyU's signator.

The Treaty states that those who sign, acknowledge the Lenape Tribe as the indigenous caretakers of these lands and agree to support the Lenape Tribe. While not a legal document, it is an agreement of heart, mind and spirit. Its words carry the integrity of our ancestors and the hope of our children.

Gwynedd Mercy University stands on the Indigenous territory known as "Lenapehoking," the traditional homelands of the Lenape, also called Lenni-Lenape or Delaware Indians. These are the people who, during the 1680s, negotiated with William Penn to facilitate the founding of the colony of Pennsylvania. Their descendants today include the Delaware Tribe and Delaware Nation of Oklahoma; the Nanticoke Lenni-Lenape, Ramapough Lenape, and Powhatan Renape of New Jersey; and the Munsee Delaware of Ontario.

As signees, GMercyU made the commitment to "stand up well" as a living testament to the fact that environmental, cultural, and historical awareness is the key to our future.

"Over the past several years, GMercyU has worked to build awareness on campus through programming about indigenous people. Our hope is that this pledge commitment today will help frame even more work on our campus. But this is only the beginning. As we at GMercyU look to do good today and better tomorrow, we look forward to further building our relationship with the Lenape, and further exposing our campus to your rich heritage," Jim said.

GMercyU will continue to host programing that intersects our mission and the spirit of the treaty. Learn more about GMercyU's Native American & Indigenous Resources and Events.