Mercy in Action
Academics
GMercyU Students Travel to Jamaica to Serve the Mustard Seed Community
Gwynedd Mercy University undergraduate Nursing and Social Work students traveled to the Mustard Seed Community in Jamaica for one week in May 2022.
Mustard Seed Communities is an international nonprofit organization dedicated to providing care to the developing world's most vulnerable populations. The organization works with children and adults with various disabilities to provide loving and lifelong care.
Students provided training to caregivers within the community that is grounded on evidence-based practice. They also had collaborated with other disciplines and professions, all while immersing themselves in the Jamaican culture. By the end of the trip, students formed strong connections with the residents after their many interactions, and assisted in a health clinic.
Prior to traveling, the students researched and developed evidence-based presentations that were related to the needs of the Mustard Seed Communities. This year, the areas of focus included De-escalating Aggressive Residents, Self-care for the Caregivers, Trauma Informed Care, and Basic First-Aid and Wound Care. Students were involved in several training programs while there, in which they presented their information to caregivers.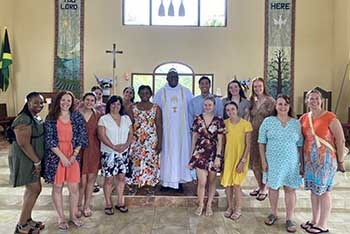 Brianna McDonald '22, recent Social Work graduate, attended the trip.
"After traveling to one of the Mustard Seeds Jamaica locations, Jacob's Ladder, I learned the true meaning of cultural humility. I worked side-by-side with nursing students, residents, and caregivers to provide a week full of love and care," Brianna said. "I was inspired by the residents will power and kindness despite their circumstances, and I left a piece of my heart at Jacob's Ladder. I have found my sense of purpose and a new passion for mission. I would recommend to anyone who is given the opportunity to participate in global learning not to walk but run. You will never look back."
Rachel Hatem, junior nursing student at GMercyU, also attended the trip.
"My time at Mustard Seed showed me the greatness of God's power and how vast his compassion and Mercy truly is. Throughout the week, I found myself marveling at the residents' display of love and devotion to God," Rachel said. "Their pure joy when singing worship songs and reading the gospel throughout the week was contagious. I was comforted by God's presence during my trip. I was inspired by the residents – my brothers and sisters in Christ – to draw closer to God under any circumstance and to lean on Him always."