Will Allen Receives Outstanding Student Leadership Award at 2022 Honors Convocation
Class of 2022 Criminal Justice graduate William Allen will receive the Outstanding Student Leadership Award at the 2022 Honors Convocation Ceremony. This award is presented to a senior who has provided excellent leadership and service to the GMercyU community. This individual has served in both non-elected and elected positions across a variety of co-curricular activities.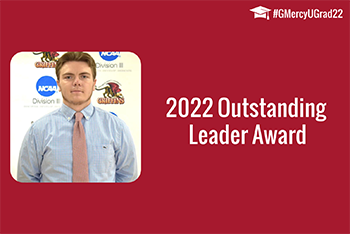 William Allen was a four-year member of the Men's Lacrosse team where he served as a mentor to the team's underclassment and as the Class Council representative. He earned Academic All-Conference honors for the past three years and served as President of the Student Athlete Advisory Council for the past two years. He was the founder, President, and Community Service Committee Chair of the University's Adventure Club, a Student Government Association representative, and an Academic Tutor. William was also a member of the Alpha Phi Sigma National Criminal Justice Honor Society and the Sigma Phi Sigma National Mercy Honor Society and completed the Griffin Student Leadership Institute Exceptional Leaders program.