GMercyU Receives Funding from Home4Good Grant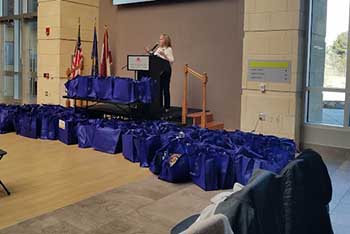 Gwynedd Mercy University is one of 69 organizations across the state to receive part of the Home4Good funding, which will be used to support the College Student Basic Needs Program (CSBNP).
The Pennsylvania Housing Finance Agency (PHFA) and the Federal Home Loan Bank of Pittsburgh (FHLBank Pittsburgh) hosted an event on March 25 to promote Home4Good funding that amounted to $3.95 million in support of programs and organizations across Pennsylvania working to eradicate homlessness. U.S. Rep. Madeleine Dean was among the many who attended the event to help celebrate the grant. The event took place at Montgomery County Community College, where conference attendees celebrated the grant, assembled care packages, and food orders.
CSBNP is a program designed to address food and housing insecurity and other basic needs amongst college students. Board of Trustees member John Kepner initiated conversations between GMercyU, Montgomery County Community College, and Manna on Main Street after learning about Catherine's Cupboard. With the program, students have the option to use online food shopping software to choose food from Manna on Main Street in Lansdale and the Pottstown Cluster of Religious Communities in Pottstown.
CSBNP has several other initiatives they wish to achieve, including a website with more accessible resources for students; an affordable housing scholarship fund which will be funded through the Home4Good grant; and research to identify whether the initiatives are successful.
GMercyU's Assistant Director of Campus Ministry for Community Service Betsy Stone Plummer is the institution's representative for the CSBNP, and is also the primary person responsible for Catherine's Cupboard.
"I am thrilled that with the generous support of Home4Good, our students will have the opportunity to apply for affordable housing scholarships next year. With the rising cost of housing in our area, this type of assistance is desperately needed for local college students. Many make great sacrifices to attain their degrees and advance their career prospects. These funds, along with additional basic needs support, will go a long way to support students and their families in the coming year. I am so deeply grateful to all of our fellow consortium members for their dedication and focus on College Student Basic Needs; this funding would not have been possible without them," Betsy said.